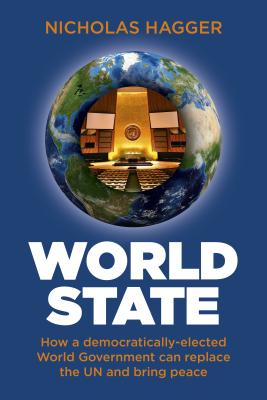 World State
How a Democratically-Elected World Government Can Replace the Un and Bring Peace
Paperback

* Individual store prices may vary.
Description
Since 1945 the UN has failed to prevent 162 wars and the proliferation of nuclear weapons, and there is talk of a Third World War involving the Middle East, the Baltic states and North Korea. Competing nation-states seem powerless to achieve world peace under the UN. Continuing a tradition that began with the 1945 atomic bombs, Nicholas Hagger follows Truman, Einstein, Churchill, Eisenhower, Gandhi, Russell, J.F. Kennedy and Gorbachev in calling for a democratic, partly-federal World State with sufficient authority to abolish war, enforce disarmament, combat famine, disease and poverty, and solve the world's financial and environmental problems. In World State Hagger sets out the historical background and the failure of the current political order of nation-states. He presents the ideal World State - its seven federal goals, its structure and the benefits it would bring - and sets out a manifesto that would turn the UN General Assembly into an elected lower house of a democratic World State. He details the constituencies for a World Parliamentary Assembly and World Senate, and provides the data for his calculations in full appendices. A companion volume, World Constitution, contains a Constitution for a 'United Federation of the World' that can be laid before the UN General Assembly. This comprehensive and authoritative study serves as an introduction to this Constitution and may come to be seen as the defining work on a World State.
O-Books, 9781780999647, 416pp.
Publication Date: June 29, 2018
About the Author
Nicholas Hagger is a poet, man of letters, cultural historian and philosopher. He has lectured in English Literature at the University of Baghdad in Iraq and the University of Libya, and was a Professor of English Literature at Tokyo University of Education, Keio University and Tokyo University in Japan. He has studied Islamic and Oriental philosophy, and led a group of Universalist philosophers. He is the author of 46 books. These comprise a substantial literary output of over 2,000 poems, including over 300 classical odes; two poetic epics; 5 verse plays and a masque; 1,200 short stories; travelogues; and innovatory works in literature, history and philosophy. He was awarded the Gusi Peace Prize 2016 for Literature.
or
Not Currently Available for Direct Purchase