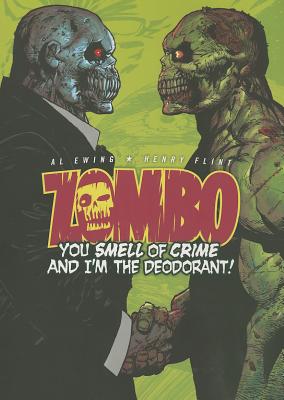 Zombo: You Smell of Crime and I'm the Deodorant! (Paperback)
You Smell of Crime and I'm the Deodorant!
2000 AD, 9781781080337, 128pp.
Publication Date: October 15, 2013
* Individual store prices may vary.
or
Not Currently Available for Direct Purchase
Description
More hilarious and gory adventures of the government-funded zombie super-agent. When the Government's latest crime deterrent, Obmoz goes completely off the rails and starts to destroy everything from the underfunded super team Planetronix to the president himself, who ya gonna call? Not Zombo, because he's dead and not in a zombie-type of dead way, but in a brain-melted-by-laser kinda way Now the only thing standing between mankind and total annihilation is a male stripper and a well padded pair of underpants I don't think we're going to make it...
About the Author
Al Ewing is a massively talented young writer whose work for 2000 AD has seen him hailed as a major voice in the field, bringing both fresh characters, a keen sense of comedy and a startling inventiveness to the comics scene. The Zaucer of Zilk, 2000 AD/idw was acclaimed as one of the best comics of 2012, and his 2013 projects are sure to lift him even higher. Henry Flint is one of the 2000 AD's superstars. Co-creater of Sancho Panzera and Shakara, his incredibly versatile pencils have also graced A.B.C Warriors, Judge Dredd/ Aliens, Bill Savage, Deadlock Judge Dredd, Rogue Tropper, Missionary Man, Nemesis the Warlock, Nikolai Dante, Sinister Dexter, Tharg the Mighty, The V.C.'s Vector 13 and Venus Bluegenes. He has even written a Tharg's Alien Invasions strip! He has also begun to establish himself in American comics. In 2004 Flint was recipient of the award for best artist at the National Comic Awards.
Advertisement