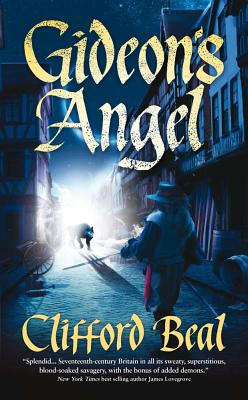 Gideon's Angel (Mass Market)
Solaris, 9781781080849, 352pp.
Publication Date: February 26, 2013
* Individual store prices may vary.
Description
He came back to kill a tyrant. He found the Devil instead. An amazing historical novel with a supernatural twist set after the English Civil War. This is the stunning debut from Clifford Beal.

He came back to kill a tyrant. He found the Devil instead.

1653: The long and bloody English Civil War is at an end. King Charles is dead and Oliver Cromwell rules the land as king in all but name. Richard Treadwell, an exiled royalist officer and soldier-for-hire to the King of France and his all-powerful advisor, the wily Cardinal Mazarin, burns with revenge for those who deprived him of his family and fortune. He decides upon a self-appointed mission to return to England in secret and assassinate the new Lord Protector. Once back on English soil however, he learns that his is not the only plot in motion.
A secret army run by a deluded Puritan is bent on the same quest, guided by the Devil's hand. When demonic entities are summoned, Treadwell finds himself in a desperate turnaround: he must save Cromwell to save England from a literal descent into Hell. But first he has to contend with a wife he left in Devon who believes she's a widow, and a furious Paris mistress who has trailed him to England, jeopardising everything. Treadwell needs allies fast. Can he convince the man sent to forcibly drag him back to Cardinal Mazarin? A young king's musketeer named d'Artagnan.
Black dogs and demons; religion and magic; Freemasons and Ranters. It's a dangerous new Republic for an old cavalier coming home again.

"I almost never read fantasy, these days, and refuse to read other fiction of any kind when working on a book. But Clifford Beale's Gideon's Angel bore a passing resemblance to the novel I'm currently writing so from curiosity I took a look -- and was hooked. I hadn't meant to read it but it gripped me and I had to finish it. Check it out. Fast-paced fantasy/historical adventure." -- Michael Moorcock
About the Author
Clifford Beal, originally from Providence, Rhode Island, worked for 20 years as an international journalist and is the former editor-in-chief of Jane's Defence Weekly in London. He is the author of Quelch's Gold (Praeger Books 2007), the true story of a little-known but remarkable early 18th century Anglo-American pirate. But he's also been scribbling fiction from an early age: his seventh grade English teacher nicknamed him "Edgar Allen" undoubtedly due to the gothic subject matter of his extremely short stories.
For recreation, Clifford used to don plate armour and bash the tar out of people in the Society for Creative Anachronism before moving to more civilised pursuits such as 17th century rapier and dagger fighting and motorcycling (though not simultaneously). Today, he is more likely to be found at the seaside or the Savile Club in London, sharing good wine and conversation in a place where the sparring is usually only verbal. Gideon's Angel is his first published novel.
Praise For Gideon's Angel…
"…the plot never stops thickening and the galloping pace keeps it from clotting… All this plus sound historical settings, terrific supernatural set pieces and walk-on parts for D'Artagnan and John Milton. What's not to like?"
— The Daily Mail

"Our exiled but secretly returned Cavalier hero faces the hard choice:Cromwell or the devil? Swashbuckling excitement in grimy 1653."
— The Daily Telegraph

"Prepare for a swashbuckling, roller-coaster unputdownable read, full ofderring do, bodice ripping and political intrigue. Clifford Beal is a greatstory teller who keeps his readers on the edge of their seats. Note toHollywood producers, snap this one up now."
— Jerry Hayes, The Spectator

"Splendid… sweaty, superstitious, blood-soaked savagery, with the bonus of added demons."
— James Lovegrove, NYT Best Selling Author

"An exciting and compelling debut"
— A Fantastical Librarian

"The sheer panache with which Clifford Beal brings together the past and the supernatural results in a headlong alt-history hybrid more potent than either aspect of the entire would be without the other"
— Tor.com

"The motivations of these not-quite-heroes and the people they come up against are deliciously human and it's nice to see this sort of occult historical horror in which everyone's actions seem at the very least justified,rather than being motivated through insanity….It is a good read and very entertaining, and recommended for fans of both horror and Roundheads."
— Starburst Magazine

"Exciting, violent, and occasionally incredibly cheesy, this is as fun as fiction gets"
— SFX Magazine
or
Not Currently Available for Direct Purchase