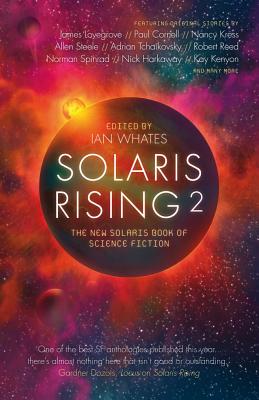 Solaris Rising 2 (Mass Market)
The New Solaris Book of Science Fiction
Solaris, 9781781080887, 448pp.
Publication Date: March 26, 2013
* Individual store prices may vary.
Description
Following the exceptionally well received first collection, Solaris Rising 2 brings even more best-selling and cutting edge SF authors together for another extraodrinary volume of ground-breaking stories.

Having re-affirmed Solaris's proud reputation for producing high quality science fiction antologies in the first volume, Solaris Rising 2 is the next collection in this exciting series. Featuring stories by Allan Steele, Kristine Kathryn Rusch, Kim Lakin-Smith, Paul Cornell, Eugie Foster, Nick Harkaway, Nancy Kress, Kay Kenyon, James Lovegrove, Robert Reed, Mercurio D. Rivera, Norman Spinrad, Adrian Tchaikovsky, Liz Williams, Vandana Singh, Martin Sketchley, and more. These stories are guaranteed to surprise, thrill and delight, and maintain our mission to demonstrate why science fiction remains the most exiting, varied and inspiring of all fiction genres. In Solaris Rising we showed both the quality and variety that modern science fiction can produce. In Solaris Rising 2, we'll be taking that much, much further.
About the Author
Ian Whates is a director of both the Science-Fiction Writers Association and the British Science-Fiction Association. He is the proprietor and editor of NewCon Press. His novels The Noise Within and The Noise Revealed are published by Solaris, he has also written City of Dreams & Nightmare and City of Hope & Despair.
or
Not Currently Available for Direct Purchase