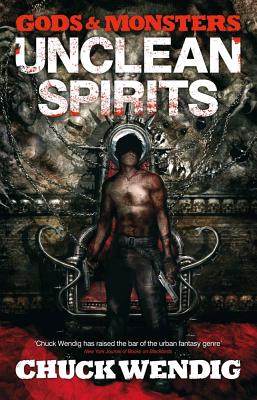 Unclean Spirits
Paperback

* Individual store prices may vary.
Other Editions of This Title:
Digital Audiobook (10/19/2017)
Paperback (2/13/2018)
Description
The force of nature that is Chuck Wendig returns with an original urban fantasy novel, creating a brand new series for Abaddon Books. Five years ago, it all went wrong for Cason Cole. He lost his wife and son, lost everything, and was bound into service to a man who chews up human lives and spits them out, a predator who holds nothing dear and respects no law. Now, as the man he both loves and hates lies dying at his feet, the sounds of the explosion still ringing in his ears, Cason is finally free. The gods and goddesses are real. A polytheistic pantheon--a tangle of divine hierarchies--once kept the world at an arm's length, warring with one another for mankind's belief and devotion. It was a grim and bloody balance, but a balance just the same. When one god triumphed, driving all other gods out of Heaven, it was back to the bad old days: cults and sycophants, and the terrible retribution the gods visit on those who spite them. None of which is going to stop Cason from getting back what's his...
Abaddon Books, 9781781080962, 302pp.
Publication Date: May 7, 2013
About the Author
Chuck Wendig is a novelist, screenwriter and self-described 'penmonkey.' He sold his first story when he was 18. After working in the computer and role-playing game industries he began scripting TV and film projects, including a horror film script which won him a place at the prestigous Sundance Screenwriter Lab 2010. He has published a novel and novella with Abaddon Books, two novels with Angry Robot and has a forthcoming YA series with Amazon Publishing. He lives in the wilds of Pennsyltucky with a wonderful wife, son, and two very stupid dogs.
or
Not Currently Available for Direct Purchase