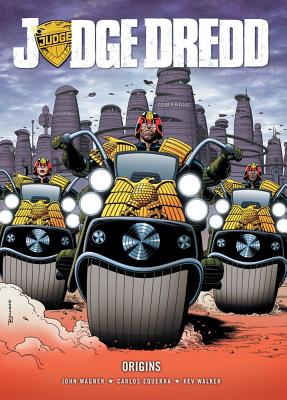 Judge Dredd: Origins (Paperback)
Origins
2000 AD, 9781781080993, 192pp.
Publication Date: March 19, 2013
Description
The birth of Judge Dredd's world is revealed. How America became a wasteland with two enormous Mega-Cities on each seaboard. How Judge Dredd himself came to be, and his first taste of dealing justice on the streets. Secrets will be revealed. The future will be forged. Justice will be served. An unusual delivery is made the the Grand Hall of Justice, a package that will force Judge Dredd to lead a mission into the Cursed Earth and into the darkest recesses of the history of the Judges and Mega-City One...
Now in this much-anticipated Dredd epic, history is written by Dredd co-creators John Wagner (A History of Violence) and Carlos Ezquerra (Strontium Dog) with a special introductory tale featuring the art of Kev Walker.
About the Author
John Wagner is, to many fans, the very heart of 2000 AD. Involved from the earliest days of the "Galaxy's Greatest Comic," he co-created Judge Dredd, as well as a host of other series, including the critically-acclaimed Button Man. Incredibly prolific throughout his career, and writing under a diversity of pen names -- often in concert with Alan Grant, with whom he devised and developed 2000 AD's sister comic, the Judge Dredd Megazine -- Wagner has worked extensively beyond 2000 AD, originating, writing many American standards, including Batman, The Punisher, Lobo and Star Wars bounty hunter Boba Fett. His graphic novel A History of Violence was made into a hit film. Spanish artist Carlos Ezquerra is the co-creator of Judge Dredd, and has a legendary career in comcis behind him, having co-created many of 2000 AD's most iconic characters including Strontium Dog and Durham Red.
Advertisement