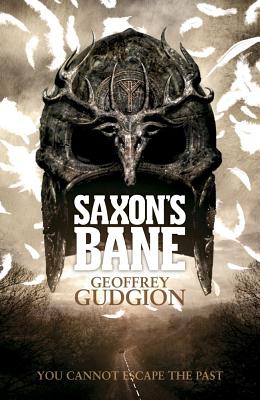 Saxon's Bane
Mass Market

* Individual store prices may vary.
Description
In a supernatural novel with echoes of Alan Garner and Kate Mosse, Geoffrey Gudgion chills the modern reader as the supernatural past invades the present.

Fergus Sheppard's world changes for ever the day his car crashes near the remote village of Allingley. Traumatised by his near-death experience, he returns to thank the villagers who rescued him, and stays to work at the local stables as he recovers from his injuries. He will discover a gentler pace of life, fall in love – and be targeted for human sacrifice.

Clare Harvey's life will never be the same either. The young archaeologist's dream find – the peat-preserved body of a Saxon warrior – is giving her nightmares. She can tell that the warrior had been ritually murdered, and that the partial skeleton lying nearby is that of a young woman. And their tragic story is unfolding in her head every time she goes to sleep.

Fergus discovers that his crash is uncannily linked to the excavation, and that the smiling and beautiful countryside harbours some very dark secrets. As the pagan festival of Beltane approaches, and Clare's investigation reveals the full horror of a Dark Age war crime, Fergus and Clare seem destined to share the Saxon couple's bloody fate.

"Once there was a great classical tradition of rural British horror from MR James to The Wicker Man. Now Geoffrey Gudgion has revived the style and modernised it to great effect, proving there's still nothing as creepy as the countryside." Christopher Fowler
Solaris, 9781781081372, 416pp.
Publication Date: August 27, 2013
About the Author
Geoffrey Gudgion was the scholarship boy who was never bright enough to realise he'd have been happier as a writer than a businessman. Until, that is, he had a spectacular row with his boss and stepped off the corporate ladder. Prior to that epiphany, he made his first attempts at writing fiction during long deployments in the Royal Navy, and consistently failed to reconcile writing with being CEO of a technology company. Geoff likes his plots to have a strong sense of place that can be traced to his geography professor at Cambridge, who inspired his love of the English landscape and taught him to see traces of the distant past in the patterns of how we live today. No surprise, then, that Geoff's first novel should be set in the 21st century but be grounded in the Dark Ages, and have at its heart an Anglo Saxon legend. Geoff lives with his wife in the Chiltern Hills between London and Oxford, and divides his time between writing and business consulting. He's also a keen horseman and a very bad pianist. Both of these passions have been known to creep into his writing. Saxon's Bane is his first novel.
or
Not Currently Available for Direct Purchase