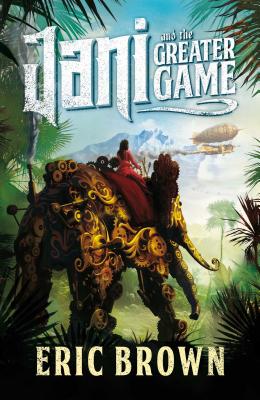 Jani and the Greater Game (Mass Market)
Solaris, 9781781082058, 384pp.
Publication Date: July 29, 2014
* Individual store prices may vary.
Description
Jani and the Greater Game is the first book in a rip-roaring, spice-laden, steampunk action adventure series set in India and featuring a heroine who subverts all the norms...

It's 1910 and the British rule the subcontinent with an iron fist – and with strange technology fuelled by a power source known as Annapurnite – discovered in the foothills of Mount Annapurna. But they rule but at the constant cost of their enemies, mainly the Russians and the Chinese, attempting to learn the secret of this technology... This political confrontation is known as The Greater Game.
Into this conflict is pitched eighteen year old Janisha Chaterjee who discovers a strange device which leads her into the foothills of the Himalayas. When Russians spies and the evil priest Durja Das find out about the device, the chase is on to apprehend Janisha before she can reach the Himalayas. There she will learn the secret behind Annapurnite, and what she learns will change the destiny of the world for ever...
About the Author
Eric S. Brown is the author of World War of the Dead, Season of Rot, and Barren Earth. Some of his past works include Cobble, Madmen's Dreams, and Unabridged Unabashed and Undead: The Best of Eric S. Brown, among others. His short fiction has been published hundreds of times and he was featured as an expert on the walking dead in the book, Zombie CSU. Eric lives in NC with his loving wife, Shanna, and his son, Merrick.
or
Not Currently Available for Direct Purchase