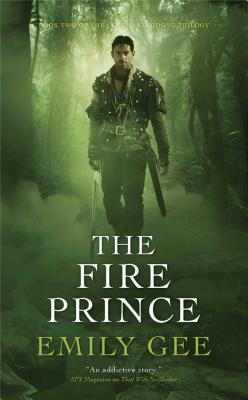 The Fire Prince (The Cursed Kingdoms Trilogy #2)
Mass Market

* Individual store prices may vary.
Description
The long awaited and much anticipated sequel to 2011's The Sentinel Mage. The Fire Prince continues the saga of Prince Harkeld, Innis the shapeshifter and the imperiled Seven Kingdoms.

The Seven Kingdoms are in the grip of an ancient and terrible blood curse. Thousands have died. Thousands more will die. Only one man can end the curse.
The fugitive Osgaardan prince, Harkeld, is that man—whether he likes it or not. But the bounty on Harkeld's head is high. He has outrun his father's soldiers, but he can't outrun the assassins who seek him—Fithians, trained in the art of killing. Even the Sentinel mages who guide and guard him are no match for Fithian steel. Faced with the ever-present threat of death, Harkeld must learn to use his fire magic. Or die.
Meanwhile, dark plots are unfolding in Osgaard's gold-tiled palace, snaring Princess Brigitta and those she loves. And in the eastern kingdoms, young orphan Jaumé journeys with a band of mysterious and dangerous fighters, heading north for a purpose he does not understand.
Solaris, 9781781082409, 576pp.
Publication Date: August 26, 2014
About the Author
Emily grew up in a house full of words and books -- her mother worked as a librarian and her father was a novelist. She loves to travel and has lived in Sweden, backpacked in Europe, and traveled overland in the Middle East, China, North Africa, and North America. She enjoys learning new things and has credits in Ancient Greek, Chemistry, and Canine Behaviour, as well as a Bachelor of Science (Geology) and a Post Graduate Diploma (Rehabilitation). Her varied career includes stints as a field assistant in Antarctica, a waitress on the Isle of Skye, and a viticulture assistant in New Zealand. Most recently she has worked in one of New Zealand's most remote national parks. She enjoys climbing hills, yoga workouts, and watching reruns of Buffy the Vampire Slayer and Firefly.
Emily writes fantasy novels as Emily Gee, and historical romance novels as Emily Larkin.