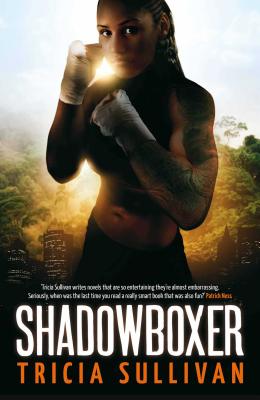 Shadowboxer (Paperback)
Ravenstone, 9781781082829, 286pp.
Publication Date: October 28, 2014
* Individual store prices may vary.
Description
Thai martial arts, international crime, celebrity and mythical creatures combine in this masterful new tale of two people facing incredible dangers, from award-winning author Tricia Sullivan. Nothing she's faced in the cage will prepare her... Jade is a young mixed martial arts fighter. When she's in the cage she dominates her opponents--but in real life she's out of control. After she has a confrontation with a Hollywood martial arts star that threatens her gym's reputation, Jade's coach sends her to a training camp in Thailand for an attitude adjustment. Hoping to discover herself, she instead uncovers a shocking conspiracy. In a world just beyond our own, a man is stealing the souls of children to try and live forever.
About the Author
Tricia Sullivan was born in 1968 in New Jersey, USA and has been writing stories since the age of seven. She attended Music Program Zero at Bard College under the guidance of composer and philosopher Benjamin Boretz, receiving a B.A. in 1990. She also holds an M.A. in Special Education from Columbia University. She wrote her first novel, Lethe, while teaching secondary school in New York City, but by the time the book was published she had moved to London. Her science fiction novels include the Arthur C. Clarke Award-winning Dreaming In Smoke, Double Vision, Sound Mind, Someone to Watch Over Me, and the British Science Fiction and Arthur C. Clarke Award-nominated novels Lightborn and Maul. She also wrote an epic fantasy trilogy under the pseudonym Valery Leith. Her works have been translated into seven languages and praised by prominent critics. Tricia has a longstanding interest in martial arts, has herself trained for many years and now administers the mixed martial arts website of her partner, martial artist Steve Morris. Currently she is raising three children while writing and studying physics and mathematics full time with the Open University.
or
Not Currently Available for Direct Purchase