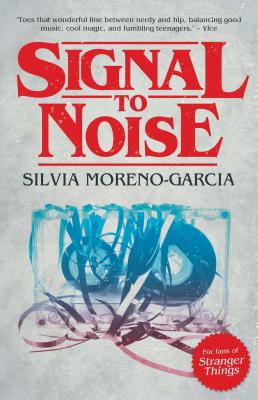 Signal to Noise (Paperback)
Solaris, 9781781082997, 272pp.
Publication Date: February 10, 2015
Other Editions of This Title:
MP3 CD (2/14/2017)
Paperback (2/1/2015)
* Individual store prices may vary.
Description
A literary fantasy about love, music and sorcery, set against the background of Mexico City.

Mexico City, 1988: Long before iTunes or MP3s, you said "I love you" with a mixtape. Meche, awkward and fifteen, has two equally unhip friends -- Sebastian and Daniela -- and a whole lot of vinyl records to keep her company. When she discovers how to cast spells using music, the future looks brighter for the trio. With help from this newfound magic, the three friends will piece together their broken families, change their status as non-entities, and maybe even find love...
Mexico City, 2009: Two decades after abandoning the metropolis, Meche returns for her estranged father's funeral. It's hard enough to cope with her family, but then she runs into Sebastian, and it revives memories from her childhood she thought she buried a long time ago. What really happened back then? What precipitated the bitter falling out with her father? And, is there any magic left?
About the Author
Mexican by birth, Canadian by inclination, Silvia Moreno-Garcia lives in beautiful British Columbia with her family and two cats. Her speculative fiction has been collected in This Strange Way of Dying and has appeared in a number of anthologies, including Imaginarium: The Best Canadian Speculative Writing. She is the winner of the Carter V. Cooper/Exile Short Fiction Competition and a finalist for the Manchester Fiction Prize and a finalist for The Sunburst Award for Excellence in Canadian Literature of the Fantastic. She tweets @silviamg and blogs at silviamoreno-garcia.com.
Praise For Signal to Noise…
"This accurate depiction of outcast teenage life cycles effortlesslybetween eras. Meche, Sebastian, and Daniela are deeply believable characters,and numerous '80s musical references make this unusual story a welcome blastfrom the past."
— – Publisher's Weekly

"In a poignant, graceful coda, Moreno-Garcia brings the book fullcircle, slyly subverting the expectations of a linear narrative and punctuatingMeche's story with a hushed, lovely flourish. In many ways, Signal to Noise is acoming-of-age tale, but it's also the tale of what comes after — and whathappens when forces beyond our control, magical or otherwise, are better leftthat way."
— – NPR

"Moreno-Garcia has a solid and convincing prose style, robust and subtlein all the right places… a successful debut, and a very interesting book."
— – Tor.com

"Suffused with the music – English-language and Spanish, pop and punk –that Meche and friends use to make their magic and soundtrack to their lives,this is both a spiky and charmingly sweet romance of making amends and startingagain. 4 stars."
— – SFX Magazine

"You've never read a book about Magic and Loss like Signal to Noise."
— – i09

"Fans of Eleanor and Park, meet Meche and Sebastian."
— – School's Library Journal

"Haunting and beautifully nuanced, Signal to Noise is a magical first novel."
— The Guardian

"The book is this rich, elaborate symphony of awesome that defies simple definitions."
— Kirkus

"It is a novel which doesn't set out to shake the world but rather to present something that is personal and thoughtful; emotional but sometimes guarded. In this, it is much like the box of mixtapes I'll always keep."
— Vector, the critical journal of the British Science Fiction Association.

"Signal to Noise is an utterly gorgeous book, and will make you want to get out your old turntable and records and give them a spin or two (or three.) Don't miss out on this one."
— My Bookish Ways

"The book is also a love letter to the various formats people have listened to music with over the past thirty years."
— Fantasy Faction