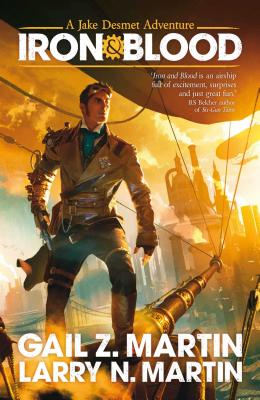 Iron and Blood (Paperback)
A Jake Desmet Adventure
Solaris, 9781781083116, 432pp.
Publication Date: July 7, 2015
* Individual store prices may vary.
Description
Adventure in New Pittsburgh... New Pittsburgh, 1898 - a crucible of invention and intrigue. Born from the ashes of devastating fire, flood and earthquake, the city is ruled by the shadow government of The Oligarchy. In the swarming streets, people of a hundred nations drudge to feed the engines of progress, while in the abandoned tunnels beneath the city, supernatural creatures hide from the light, emerging only to feed. Jake Desmet and Rick Brand travel the world to secure treasures and unusual items for the collections of wealthy patrons, accompanied by Jake's cousin, Veronique LeClerque. But when their latest commission leads to Jake's father's murder, the three friends are drawn into a conspiracy where dark magic, industrial sabotage and the monsters that prey on the night will ultimately threaten not just New Pittsburgh, but the whole world.
About the Author
Gail Z. Martin is the bestselling author of The Chronicles of The Necromancer series (The Summoner, The Blood King, Dark Haven & Dark Lady's Chosen ) from Solaris Books and The Fallen Kings Cycle (The Sworn and The Dread) from Orbit Books. Larry N. Martin fell in love with fantasy and science fiction when he was a teenager. After a twenty-five year career in Corporate America, Larry started working full-time with his wife, author Gail Z. Martin and discovered that his writing and editing skills transitioned well to fiction and that he had a knack for storytelling, plotting and character development as well. While Iron and Blood is their first official collaboration, readers have benefited from Larry's contributions on several earlier works. On the rare occasions when Larry isn't working on book-related things, he enjoys pottery, cooking and reading.