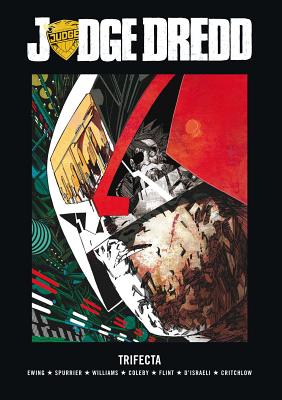 Judge Dredd (Hardcover)
Trifecta
2000 AD, 9781781083383, 176pp.
Publication Date: November 17, 2015
* Individual store prices may vary.
Description
MEGA-CITY ONE, 2134 AD. While a severely depleted Justice Department struggles to cope in the aftermath of Chaos Day, Judge Dredd becomes aware of a potential power grab from within. Meanwhile 'Wally Squad' gumshoe Jack Point is given a mysterious doll to safeguard, and Dirty Frank wakes up on Luna-1 only to discover that he is now a board member of Overdrive Inc.!

It's business as (un)usual for the three Mega-City One lawmen, and as their cases intertwine they'll need to work together in order to save the city from total destruction! This unique Dredd-verse crossover was masterminded by writers Al Ewing (Loki: Agent of Shield), Simon Spurrier (Crossed) and Rob Williams (The Royals), with art by D'Israeli (Ordinary), Henry Flint (Zombo), Simon Coleby (The Authority) and Carl Critchlow (Batman/Judge Dredd: The Ultimate Riddle).
About the Author
Al Ewing is a British novelist and American comic book writer, currently responsible for much of Marvel Comics' Avengers titles. He came to prominence with the #1 UK comic 2000 AD and then wrote a sequence of novels for Abaddon, of which the El Sombra books are the most celebrated, before becomiing the regular writer for Doctor Who: The Eleventh Doctor and a leading Marvel writer. He lives in York, England.

Rob Williams is the writer of Suicide Squad and Martian Manhunter for DC Comics, Unfollow for Vertigo and Doctor Who: The Eleventh Doctor for Titan Comics. His previous work for 2000 AD includes Judge Dredd: Titan, The Grievous Journey Of Ichabod Azrael (And The Dead Left In His Wake) and The Ten-Seconders and he is currently writing Roy of the Rovers for Rebellion

Under the pen name D'Israeli, Matt Brooker has been a comic artist since 1988. He is perhaps best known for his collaborations with writer Ian Edginton, including Leviathan, Kingdom of the Wicked, Leviathan and Batman. Other career highlights include work on Sandman, collaborations with Warren Ellis, including Lazarus Churchyard and the cryptic SVK, and his colouring on the later Miracleman stories. Since 2003, he's been a regular contributor to 2000 AD, mostly as series artist on Stickleback with Ian Edginton and Low Life with Rob Williams. His and Rob's creator owned series, Ordinary, was published in the Megazine and is now available as a graphic novel. He lives in Nottingham, UK and wishes he had a cat.
or
Not Currently Available for Direct Purchase