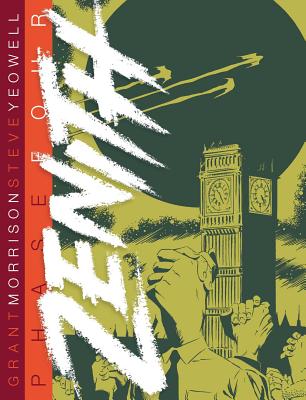 Zenith (Hardcover)
Phase 4
2000 AD, 9781781083468, 112pp.
Publication Date: July 14, 2015
* Individual store prices may vary.
Description
Zenith Phase 4, Grant Morrison's comics masterpiece with unforgettable art by Steve Yeowell, has been unavailable to trade for twenty years, but part four is published here for the first time With the Lloigor defeated nothing can stand in the way of the superhumans and universal domination The remaining members of the original British super-team Cloud 9 with some additional powered affiliates (including Zenith's infant son) have destroyed America in retaliation for an attempt on their lives. Now they plan to incubate in the sun and evolve to the next level of existence, destroying the Earth as they do so.
Once again Zenith and St. John must make a stand for humanity and this time it's personal Grant Morrison (WE3) and Steve Yeowell (Devlin Waugh) bring you the mind-blowing fi nale to one of the most celebrated series in British comics.
About the Author
Grant Morrison has authored too many bestselling graphic novels to count. Batman: Arkham Asylum, Doom Patrol, Animal Man, Flex Mentallo, Happy, Batman, and The Invisibles are just a few of the books with which Morrison has established himself as one of the modern masters of the medium. Steve Yeowell is justly famous or his work on Zenith, but he has illustrated many further 2000 AD stories, including Red Seas, Judge Anderson, Devlin Waugh, Sinister Dexter and many more.