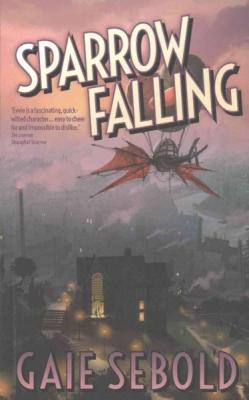 Sparrow Falling (An Evvie Duchen Adventure #2)
Mass Market

* Individual store prices may vary.
Description
Eveline Sparrow (formerly Duchen) hopes to put her past experiences as a thief and con-artist to more legitimate use; which is why some of the girls at her Sparrow School receive private lessons in burglary, fakery, and other such underhand practices. But it's hard to get honest work when few businesses will employ young ladies in the security professions. The duns are at the doorstep, her friend Liu the half-fox-spirit is in some sort of trouble, and the rivalries of the Folk are in danger of overspilling into the mundane world and forcing the Empire into a bloody and horrifying war. Can Eveline pull things out of the mire this time, or will the Sparrow's wings be clipped once and for all?
Solaris, 9781781083826, 384pp.
Publication Date: July 26, 2016
About the Author
Gaie Sebold was born in the US to an American father and English mother, and has lived in the UK most of her life. She now resides in that bit of South East London known as 'not as bad as New Cross.' She began writing shortly after learning to read, and has produced a large number of words, many of them different. She has worked as a cleaner (don't laugh, Mum), secretary, till-monkey, stage-tour-manager and editor, and now works for a charity and runs occasional writing workshops. She is an obsessive reader, enthusiastically inefficient gardener and occasional poet. She has a wonderful boyfriend, a paranoid cat and too much stuff.
or
Not Currently Available for Direct Purchase