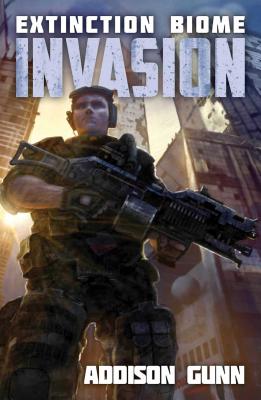 Extinction Biome (Mass Market)
Invasion
Abaddon, 9781781083895, 448pp.
Publication Date: May 31, 2016
Other Editions of This Title:
Paperback (10/1/2015)
* Individual store prices may vary.
Description
A thrilling new military SF series.

Four years in the military, training for a war that never happened, left Alexander Miller disillusioned and apathetic. Now, as second in command of COBALT, a corporate bodyguard unit for the biotech giant Schaeffer-Yeager, he's little more than a glorified chauffeur to the wealthy elite. But times change.

A threat from the ancient past has reawakened, and like a Biblical plague it threatens to consume every ecosystem on Earth. Hordes of parasite-infected humans riot against the increasingly powerless authorities as vast fungal blooms destroy crops and terrifying beasts stalk city streets.

The last time this happened, T-Rex found itself on the menu. But mankind's got more than teeth – it's got guns. Miller and the men and women of COBALT are pressed into service to fight the onslaught, but they have no idea how cut-throat their corporate masters can be...
About the Author
Extinction Biome: Invasion is, of course, the brain child of jungle warrior, revolutionary, counter-revolutionary and outdoorsperson Addison Gunn. But who is Addison Gunn? Addison's too damn busy to answer that. Instead Gunn's wrangled some of the best new talents in the genre to pen this exciting new series.
or
Not Currently Available for Direct Purchase