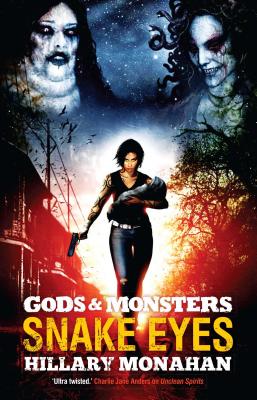 Gods and Monsters (Paperback)
Snake Eyes
Abaddon Books, 9781781084960, 320pp.
Publication Date: December 6, 2016
* Individual store prices may vary.
Description
Florida's Everglades: sleepy and backwoods, beautiful, dangerous... and home to an ages-old war between the Gorgons and the Lamia. Tanis Barlas is, in no particular order, a daughter of Lamia, a snake-woman, a killer, and a hunter, collecting men to mate with her mother and continue the precious line. She hates it, like she hates her messed-up family and everything that goes with it. But now Lamia's favourite daughter has gone missing, and it's down to Tanis to bring her back. She is dispatched to enemy territory - the snake-haired gorgons, whose turf stars at the edge of the swamp - to find her, starting a chain of events that will change every part of her life...
About the Author
Hillary Monahan is a thirty-something word nerd doing her word nerd thing in scenic southeastern Massachusetts. Armed with a basset hound army and too many cups of coffee, she slants toward stories that will tickle the funny bone. She has been known to make creepy crawly words scuttle across the page, and is quite content vacillating wildly between giggling profanity and terrifying awfulness.
or
Not Currently Available for Direct Purchase