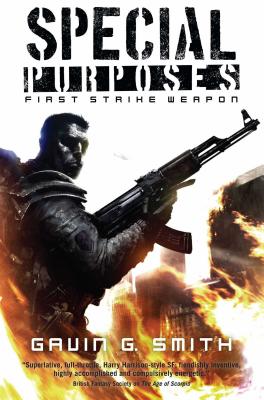 Special Purposes
Paperback

* Individual store prices may vary.
Description
At the height of the Cold War, a Russian special forces team target New York with a horrifying new virus. Vadim Scorlenski is the sergeant in charge of an elite Spetznaz squad at the height of the Cold War. Sent by the Politburo on a training exercise to the Eastern Seaboard of the United States, Scorlenski and his men discover too late that the practice 'weapon' they're carrying - an exotic chemical agent - is all too real. Betrayed by their allies and cut down by the American police, they go to their deaths... ...and awaken to a scene of turmoil. New York City has been overwhelmed by a horde of the walking dead, a plague that even now is spreading across the globe. Somehow holding onto their identities where all others have become mindless monsters, Scorlenski and his squad set out to return to Russia, to take revenge for what has been done to them.
Abaddon Books, 9781781085219, 224pp.
Publication Date: April 11, 2017
About the Author
Gavin G. Smith is the Dundee-born author of the hard edged, action-packed SF novels Veteran, War in Heaven, Age of Scorpio, A Quantum Mythology and The Beauty of Destruction, as well as the short story collection Crysis Escalation. He has colloborated with Stephen Deas as the composite personality Gavin Deas and co-written Elite: Wanted, and the shared-world series Empires.
or
Not Currently Available for Direct Purchase