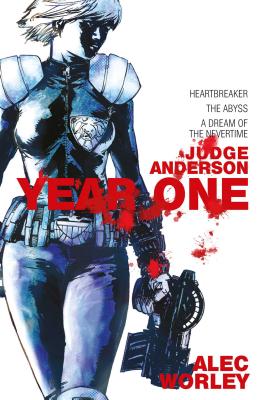 Judge Anderson
Year One
Paperback

* Individual store prices may vary.
Description
The untold story behind Mega-City One's most famous telepath and Judge Dredd partner, Judge Anderson, in her first year on the job Mega-City One, 2100. Cassandra Anderson is destined to become Psi-Division's most famous Judge, foiling supernatural threats and policing Mega-City One's hearts and souls. For now, she's fresh out of Academy and Psi-Div themselves are still finding their feet. Heartbreaker: After a string of apparently random, deadly assaults by customers at a dating agency, Anderson is convinced a telepathic killer is to blame. Putting her career on the line, the newly-trained Psi-Judge goes undercover to bring the romance-hating murderer to justice, with the big Valentine's Day parade coming up... The Abyss: Sent to interrogate Moriah Blake, leader of the notorious terror group 'Bedlam, ' Anderson gets just one snippet of information - Bedlam's planning on detonating a huge bomb - before Blake's followers take over the Block. It's a race against time, and Anderson's on her own amongst the inmates... A Dream of the Nevertime: Anderson - a rookie no more, with a year on the streets under her belt - contracts what appears to be a deadly psychic virus, and must explore the weirdest reaches of the Cursed Earth in search of a cure. She must face mutants, mystics and all the strangeness the land can throw at her as she wrestles weird forces...
Abaddon Books, 9781781085554, 400pp.
Publication Date: June 13, 2017
About the Author
Alec Worley was a projectionist and a film critic before writing short Future Shock strips for 2000 AD and creating two original series: werewolf apocalypse saga Age of the Wolf (with Jon Davis-Hunt) and 'spookpunk' adventure comedy Dandridge (with Warren Pleece). He writes the Teenage Muttant Ninja Turtles comics for Panini in the UK and has also written Judge Dredd, Robo-Hunter, Tharg's 3rillers and Tales From The Black Museum and Realm of the Damned. This is his debut prose novel.