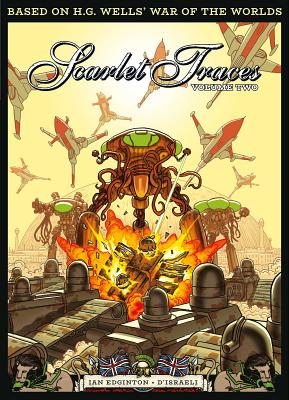 The Complete Scarlet Traces Vol. 2 (Paperback)
2000 AD, 9781781085615, 224pp.
Publication Date: October 10, 2017
Other Editions of This Title:
Paperback (1/17/2017)
* Individual store prices may vary.
Description
The brand new series of Scarlet Traces continues the story of HG Wells' classic SF The War Of The Worlds, taking the story back to Mars...

Thanks to the technology left behind by the Martians and salvaged by the survivors, the British Empire has become a dominating world power once again, and has taken the fight back to the Martians! But an aging Robert Autumn knows there is more to this war than the propganda suggests. He sends journalist Charlotte Hemmingway undercover to Mars in order to discover the truth. What she discovers there is truly earth-shattering...

This volume contains the very latest series of Scarlet Traces, which has never been collected before.


About the Author
Under the pen name D'Israeli, Matt Brooker has been a comic artist since 1988. He is perhaps best known for his collaborations with writer Ian Edginton, including Leviathan, Kingdom of the Wicked, Leviathan and Batman. Other career highlights include work on Sandman, collaborations with Warren Ellis, including Lazarus Churchyard and the cryptic SVK, and his colouring on the later Miracleman stories. Since 2003, he's been a regular contributor to 2000 AD, mostly as series artist on Stickleback with Ian Edginton and Low Life with Rob Williams. His and Rob's creator owned series, Ordinary, was published in the Megazine and is now available as a graphic novel. He lives in Nottingham, UK and wishes he had a cat.