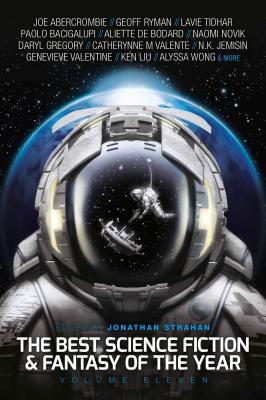 The Best Science Fiction and Fantasy of the Year (Paperback)
Volume Eleven (Best SF & Fantasy of the Year #11)
Solaris, 9781781085622, 500pp.
Publication Date: April 18, 2017
Other Editions of This Title:
Paperback (3/1/2007)
Paperback (3/27/2012)
Paperback (3/1/2011)
Paperback (4/17/2018)
Paperback (3/1/2008)
Paperback (5/1/2009)
Paperback (5/5/2016)
* Individual store prices may vary.
Description
The 11th volume in this much lauded series with incisive and genre-defining stories chosen my multi-award winning editor Jonathan Strahan.

The internationally-acclaimed 'Best Science Fiction and Fantasy of the Year' series moves into its second decade with the very best science fiction and fantasy from around the world. Hard science fiction, space opera, epic fantasy, dystopia, alternate history, swords and sorcery - you can find it all in the more than two dozen stories carefully chosen for this book by award-winning anthologist Jonathan Strahan to give readers a captivating and always-entertaining look at the very best the genre has to offer.

Previous volumes have included stories from Neil Gaiman, Stephen King, Cory Doctorow, Stephen Baxter, Elizabeth Bear, Joe Abercrombie, Paolo Bacigalupi, Holly Black, Garth Nix, Jeffrey Ford, Margo Lanagan, Bruce Sterling, Adam Robets, Ellen Klages, and many many more.

Praise for the series:

"a must-read for fans of science fiction, fantasy, and short stories in general" - Booklist

"Best in this context is more than its constituent parts, it's a demonstration of all that can be found: diversity of voice, subject and form; balance between new and established voices; work from a good range of original sources... Books as good as this should be of interest to any admirer of short fiction, regardless of genre.' The Guardian

"…a provocative anthology that will satisfy readers looking for fresh, contemporary work that stretches both SF and fantasy boundaries" Publishers Weekly (Starred Review)
About the Author
Jonathan Strahan is the multi-award winning editor of such anthologies as Engineering Infinity, Fearsome Magics, The Best of Science Fiction & Fantasy, The Year's Best Australian Science Fiction and Fantasy, and many other ground-breaking collections of the very finest genre fiction.