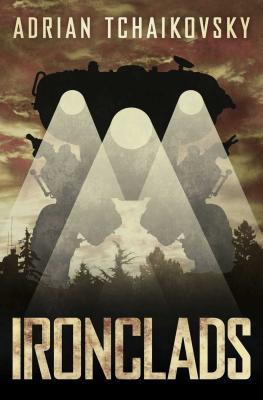 Ironclads (Hardcover)
Solaris, 9781781085684, 200pp.
Publication Date: November 7, 2017
* Individual store prices may vary.
Description
Special limited edition sceince fiction hardcover novella by the Arthur C. Clarke Award-winning author. Only 1000 copies. Scions have no limits. Scions do not die. And Scions do not disappear. Sergeant Ted Regan has a problem. A son of one of the great corporate families, a Scion, has gone missing at the front. He should have been protected by his Ironclad - the lethal battle suits that make the Scions masters of war - but something has gone catastrophically wrong. Now Regan and his men, ill equipped and demoralised, must go behind enemy lines, find the missing Scion, and uncover how his suit failed. Is there a new Ironclad-killer out there? And how are common soldiers lacking the protection afforded the rich supposed to survive the battlefield of tomorrow?
About the Author
Adrian Tchaikovsky was born in Woodhall Spa, Lincolnshire before heading off to Reading to study psychology and zoology. He subsequently ended up in law and has worked as a legal executive in both Reading and Leeds, where he now lives. Married, he is a keen live role-player and has trained in stage-fighting and historical combat. He maintains a keen interest in history and the biological sciences especially entomology. Adrian is the author of the acclaimed 10-book Shadows of the Apt series starting with Empire in Black and Gold published by Tor UK. His other works for Tor UK include standalone novels Guns of the Dawn and Children of Time and the new series Echoes of the Fall starting with The Tiger and the Wolf. Other major works include short story collection Feast and Famine for Newcon Press and novellas The Bloody Deluge (in Journal of the Plague Year) and Even in the Cannon's Mouth (in Monstrous Little Voices) for Abaddon. He has also written numerous short stories. In 2016 he won the Arthur C Clarke Award and he has been shortlisted for the David Gemmell Legend Award and the British Fantasy Award.