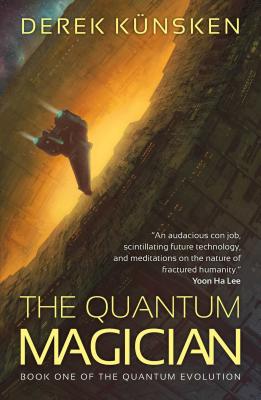 The Quantum Magician (The Quantum Evolution #1)
Paperback

* Individual store prices may vary.
Description
The Ultimate Heist

Belisarius is a Homo quantus, engineered with impossible insight. But his gift is also a curse – an uncontrollable, even suicidal drive to know, to understand. Genetically flawed, he leaves his people to find a different life, and ends up becoming the galaxy's greatest con man and thief.

But the jobs are getting too easy and his extraordinary brain is chafing at the neglect. When a client offers him untold wealth to move a squadron of secret warships across an enemy wormhole, Belisarius jumps at it.

Now he must embrace his true nature to pull off the job, alongside a crew of extraordinary men and women. If he succeeds, he could trigger an interstellar war... or the next step in human evolution.
Praise For The Quantum Magician (The Quantum Evolution #1)…
"The Quantum Magician is the type of book you go back to... and read again" -- Strange Alliances
— Strange Alliances

"...a caper worthy of Jean-Pierre Melville" -- The B&N SciFi and Fantasy Blog
— The B&N Sci-Fi and Fantasy Blog

"A boldly ambitious debut" -- SFX Magazine
— SFX Magazine

"...a delightfully engaging heist story." -- Caroline Mersey, Science Fiction Book Club
— Caroline Mersey

"I have no problems raving about this book. A truly wild backdrop of space-opera with wormholes, big space-fleet conflict and empires.... what could go wrong?" -- Brad K. Horner

"Technology changes us-even our bodies-in fundamental ways, and Kunsken handles this wonderfully" -- Cixin Liu

"An audacious con job, scintillating future technology, and meditations on the nature of fractured humanity" -- Yoon Ha Lee
Solaris, 9781781085707, 480pp.
Publication Date: October 2, 2018
About the Author
Derek Künsken has built genetically engineered viruses, worked with street children and refugees in Latin America, served as a Canadian diplomat, and, most importantly, taught his son about super-heroes and science. His short fiction has appeared in Analog Science Fiction and Fact, Beneath Ceaseless Skies and multiple times in Asimov's Science Fiction. His stories have been adapted into audio podcasts, reprinted in various Year's Best anthologies, and translated into multiple languages. They have also been short-listed for various awards, and won the Asimov's Readers' Award in 2013.