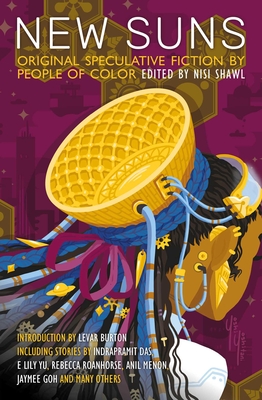 New Suns
Original Speculative Fiction by People of Color
Paperback

* Individual store prices may vary.
Description
Winner of the 2020 Locus, World Fantasy, British Fantasy, Ignyte, and Brave New Words Awards.


"There's nothing new under the sun, but there are new suns," proclaimed Octavia E. Butler.

New Suns: Original Speculative Fiction by People of Color showcases emerging and seasoned writers of many races telling stories filled with shocking delights, powerful visions of the familiar made strange. Between this book's covers burn tales of science fiction, fantasy, horror, and their indefinable overlappings. These are authors aware of our many possible pasts and futures, authors freed of stereotypes and clichés, ready to dazzle you with their daring genius.

Unexpected brilliance shines forth from every page.

Includes stories by Kathleen Alcala, Minsoo Kang, Anil Menon, Silvia Moreno-Garcia, Alex Jennings, Alberto Yanez, Steven Barnes, Jaymee Goh, Karin Lowachee, E. Lily Yu, Andrea Hairston, Tobias Buckell, Hiromi Goto, Rebecca Roanhorse, Indrapramit Das, Chinelo Onwualu and Darcie Little Badger.
Praise For New Suns: Original Speculative Fiction by People of Color…
"This book's wide range of stories is its greatest strength; though no reader will love them all, every reader will find something worth rereading." -- Publishers Weekly, starred review
— Publishers Weekly
Solaris, 9781781085783, 288pp.
Publication Date: March 12, 2019
About the Author
Nisi Shawl is an African American writer and editor best known for the first multiple award-winning New Suns anthology and for their 2016 Nebula finalist novel Everfair. In 2019 they received the Kate Wilhelm Solstice Award for distinguished service to the genre. Prior to putting together New Suns, they edited and co-edited WisCon Chronicles 5: Writing and Racial Identity; Bloodchildren: Stories by the Octavia Butler Scholars; Strange Matings: Science Fiction, Feminism, African American Voices, and Octavia E. Butler; and Stories for Chip: A Tribute to Samuel R. Delany. Shawl lives in Seattle, where they take frequent walks with their cat.

Rebecca Roanhorse is the New York Times bestselling author of Trail of Lightning, Storm of Locusts, Star Wars: Resistance Reborn, and Race to the Sun. She has won the Nebula, Hugo, Alex, and Locus Awards for her fiction, and was the recipient of the 2018 Astounding Award for Best New Writer. Her previous novel, Black Sun, was a national bestseller and a finalist for the Hugo, Locus, and Nebula Awards. She lives in New Mexico with her family.

Mexican by birth, Canadian by inclination. Silvia Moreno-Garcia is the author of a number of critically acclaimed novels, including Gods of Jade and Shadow (Sunburst Award for Excellence in Canadian Literature of the Fantastic, Ignyte Award), Mexican Gothic (Locus Award, Pacific Northwest Book Award, Goodreads Award), and others.

She has edited several anthologies, including She Walks in Shadows (World Fantasy Award winner, published in the USA as Cthulhu's Daughters). Silvia is the publisher of Innsmouth Free Press. She co-edited the horror magazine The Dark with Sean Wallace from 2017 to 2020. She's a columnist for The Washington Post.

She has an MA in Science and Technology Studies from the University of British Columbia. Her thesis can be read online and is titled "Magna Mater: Women and Eugenic Thought in the Work of H.P. Lovecraft." She lives in Vancouver, British Columbia.

Dr. Darcie Little Badger is a Lipan Apache geoscientist and writer. Her short fiction has appeared in multiple places, including Love Beyond Body, Space, and Time, Robot Dinosaur Stories, Strange Horizons, The Dark, Lightspeed, and Cicada Magazine. Darcie's debut comic, "Worst Bargain in Town," was published in Moonshot: The Indigenous Comics Collection, Volume 2. She lives with one dog named Rosie and all of Rosie's toys.

Born in the Caribbean, Tobias S. Buckell is a New York Times Bestselling author. His novels and over seventy stories have been translated into 18 languages. He has been nominated for the Hugo, Nebula, and John W. Campbell awards for Best New Science Fiction Author. He currently lives in Ohio.

Minsoo Kang is the author of the short story collection Of Tales and Enigmas, the history book Sublime Dreams of Living Machines: The Automaton in the European Imagination, and the translator of the Penguin Classic The Story of Hong Gildong. His stories have appeared in Strange Horizons, The Magazine of Fantasy and Science Fiction, Fantastic Stories of the Imagination, Azalea, Lady Churchill's Rosebud Wristlet, and two anthologies. He is an associate professor of history at the University of Missouri St. Louis.

Jaymee Goh is a writer, poet, critic, reviewer, and editor of science fiction and fantasy. She graduated from the Clarion Science Fiction and Fantasy Writers Workshop in 2016, and holds a PhD from the University of California, Riverside. She has been published in places like Strange Horizons, Lightspeed Magazine, and Science Fiction Studies. She coedited The Sea is Ours: Tales of Steampunk Southeast Asia (Rosarium Publishing), and edited The WisCon Chronicles Vol. 11: Trials By Whiteness (Aqueduct Press).

Indrapramit Das (aka Indra Das) is a writer from Kolkata, India. He is a Lambda Literary Award-winner for his debut novel, The Devourers (Penguin India / Del Rey), and has been a finalist for the Crawford, Tiptree and Shirley Jackson Awards. He is an Octavia E. Butler Scholar and a grateful graduate of Clarion West 2012. He has lived in India, the United States, and Canada, where he completed his MFA at the University of British Columbia.

E. Lily Yu received the John W. Campbell Award for Best New Writer in 2012 and the Artist Trust LaSalle Storyteller Award in 2017. Her stories have appeared in McSweeney's, Boston Review, F&SF, Clarkesworld, and Terraform, among others, as well as multiple best-of-the-year anthologies, and have been finalists for the Hugo, Nebula, Sturgeon, Locus, and World Fantasy awards.

Karin Lowachee was born in South America, grew up in Canada, and worked in the Arctic. Her first novel, Warchild, won the 2001 Warner Aspect First Novel Contest. Both Warchild and her third novel, Cagebird, were finalists for the Philip K. Dick Award. Cagebird won the Prix Aurora Award for Best Long-Form Work in English. Her short stories have appeared in anthologies edited by Nalo Hopkinson, John Joseph Adams, and Ann VanderMeer. She can be found on twitter at @karinlow.

From Roots; to Star Trek: The Next Generation; to the Emmy-winning PBS series Reading Rainbow, LeVar Burton has captivated audiences worldwide with his authentic charm and his passion for storytelling, for over 40 years. As well as a beloved and acclaimed actor, he is an accomplished producer, director, and writer. LeVar's most recent triumph is his popular podcast LeVar Burton Reads, now in its second season. Through his company LeVar Burton Kids he is creating content that harnesses a child's unique curiosity, using stories as ways of exploring the world.

Kathleen Alcalá is a Clarion West graduate and instructor, the award-winning author of six books, a recent Whitely Fellow, and a previous Hugo House Writer in Residence. Her latest book, The Deepest Roots: Finding Food and Community on a Pacific Northwest Island, explores relationships with geography, history, and ethnicity. Ursula K. Le Guin said of Alcalá's story collection Mrs. Vargas and the Dead Naturalist: "Not one tale is like another, yet all together they form a beautiful whole, a world where one would like to stay forever."

Steven Barnes was born in Los Angeles, California and attended Pepperdine University, majoring in Communication Arts. He has published over three million words of science fiction, fantasy, suspense, and mystery, comprising some 33 novels, as well as writing for film, stage, and television. He lives in Los Angeles with his son Jason and his wife, British Fantasy Award-winning author Tananarive Due.

Chinelo Onwualu is a Nigerian writer and editor living in Toronto, Canada. She is editor and cofounder of Omenana, a magazine of African speculative fiction, and a graduate of the 2014 Clarion West Writers Workshop, which she attended as the recipient of the Octavia E. Butler Scholarship. Her writing has appeared in Uncanny, Strange Horizons, and The Kalahari Review.

Alex Jennings is a writer/teacher/performer living in New Orleans. He was born in Wiesbaden (Germany) and raised in Gaborone (Botswana), Tunis (Tunisia), Paramaribo (Surinam), and the United States. He constantly devours pop culture and writes mostly jokes on Twitter (@magicknegro). He also helps run and MCs a monthly literary readings series called Dogfish. He is an afternoon person.

Alberto Yáñez lives in Portland, Oregon. His work has appeared in Strange Horizons, Beneath Ceaseless Skies, Toasted Cake, and PodCastle. He is a graduate of Clarion West, and was awarded a 2018 Oregon Literary Fellowship. Alberto went to Portland to become a registered nurse, and has since learned more about people, bodily fluids, and himself than anticipated. He draws on his Mexican and Jewish roots to inform "Burn the Ships." A native Californian, he misses easy sunshine, San Francisco, Chinese delivery, and other Mexicans.

Anil Menon's short fiction has appeared in a variety of magazines including Albedo One, Interzone, LCRW, and Strange Horizons. His stories have been translated into Chinese, Czech, French, German, Hebrew, and Romanian. His debut YA novel, The Beast with Nine Billion Feet, was shortlisted for the 2010 Vodafone-Crossword Award. Along with Vandana Singh he coedited Breaking the Bow, an anthology of speculative fiction inspired by the Ramayana. His most recent work, Half of What I Say, was shortlisted for the 2016 Hindu Literary Award.

Andrea Hairston is author of Will Do Magic for Small Change, finalist for the Mythopoeic Award, Lambda Award, and Tiptree Award, and a New York Times Editor's pick. Other novels include: Redwood and Wildfire, winner of the Tiptree Award, and Mindscape. She has also published essays, plays, and short fiction, and received grants from the NEA and the Rockefeller and Ford Foundations. Andrea is the L. Wolff Kahn 1931 Professor of Theatre and Africana Studies at Smith College.

Hiromi Goto is an emigrant from Japan who gratefully resides on the Unceded Musqueam, Skwxwú7mesh, and Tsleil Waututh Territories. She's written four books for adults and three books for youth, and has won numerous prizes including the James Tiptree, Jr. Literary Award, the Sunburst Award, and the Carl Brandon Parallax Award. She has a graphic novel pending with First Second Books. Hiromi is currently at work trying to decolonize her relationship to the Land and to her writing.
or
Not Currently Available for Direct Purchase