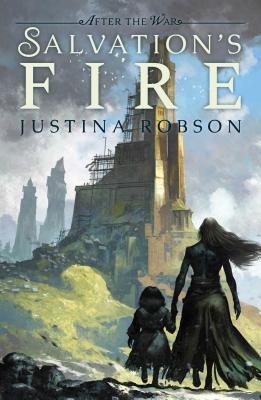 Salvation's Fire (Paperback)
After The War
Solaris, 9781781086087, 420pp.
Publication Date: September 4, 2018
* Individual store prices may vary.
Description
The thrilling new fantasy adventure from the world of Adrian Tchaikovsky's Redemption's Blade

The Tzarkomen necromancers sacrificed a thousand women to create a Bride for the Kinslayer so he would spare them in the war. But the Kinslayer is dead and now the creation intended to ensure his eternal rule lies abandoned by its makers in the last place in the world that anyone would look for it.

Which doesn't prevent someone finding her by accident.

Will the Bride return the gods to the world or will she bring the end of days? It all depends on the one who found her, Kula, a broken-hearted little girl with nothing left to lose.
About the Author
Justina Robson sold her first novel in 1999 which also won the 2000 amazon.co.uk Writers' Bursary Award, and since then her books have been shortlisted for most major genre awards. She's been a student and teacher at The Arvon Foundation and Clarion West, and is also the proud author of "The Covenant of Primus" – the Hasbro-authorised history and 'bible' of The Transformers. Her novels and stories range widely over SF and Fantasy, often combining the two and often featuring AIs and machines who aren't exactly what they seem.
or
Not Currently Available for Direct Purchase