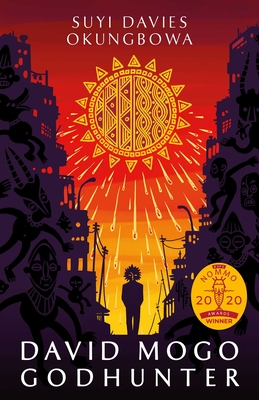 David Mogo, Godhunter
Paperback

* Individual store prices may vary.
Description
Nigerian God-Punk - a powerful and atmospheric urban fantasy set in Lagos.

LAGOS WILL NOT BE DESTROYED

The gods have fallen to earth in their thousands, and chaos reigns.

Though broken and leaderless, the city endures.

David Mogo, demigod and godhunter, has one task: capture two of the most powerful gods in the city and deliver them to the wizard gangster Lukmon Ajala.

No problem, right?
Praise For David Mogo, Godhunter…
A fantastic adventure of gods and mortals—highly recommended
— Tasha Suri, author of Empire of Sand

'A riveting debut… this story is captivating.'
— Publishers Weekly

'A Nigerian Harry Dresden. Okungbowa's voice is great, and makes Lagos feel familiar.'
— Jacey Bedford, author of Winterwood

'It's a fun fresh ride brimful of adventure, showcasing great new talent. Wholeheartedly recommend if you love Zen Cho, Tade Thompson or Nnedi Okorafor.'
— Liz de Jager, author of the Blackhart Legacy trilogy

'I did not know I was a fan of the Nigerian Godpunk genre, but this book convinced me!'
— Horner's Book Corner

'This is a refreshing take on urban fantasy, and definitely worth a look.'
— Mhairi White

"A number of books have been termed 'godpunk,' but Suyi Davies Okungbowa's novel may be the subgenre's platonic deific ideal, from its title to its plot to its terse but vivid prose… Assured and arch, unsettling and thoroughly enjoyable—an auspicious debut from one of the most promising new voices in the growing coterie of African SFF writers."
— Peter Rubin

'Vivid, visceral and with a strength of the voice that just pulls me right in. The god-littered world of David Mogo's Lagos just won't let go.'
— Jeannette Ng, author of Under the Pendulum Sun
Abaddon, 9781781086490, 360pp.
Publication Date: July 9, 2019
About the Author
Suyi Davis Okungbowa is a storyteller who writes from Lagos, Nigeria. His stories have been published in
Fireside
,
PodCastle
,
The Dark
,
StarShipSofa, Mothership Zeta
,
Omenana
, and
other places
. Suyi has worked in engineering and financial audit, and now works in brand marketing, where he gets paid to tell stories. He is also associate editor at Podcastle and a charter member of the African Speculative Fiction Society.