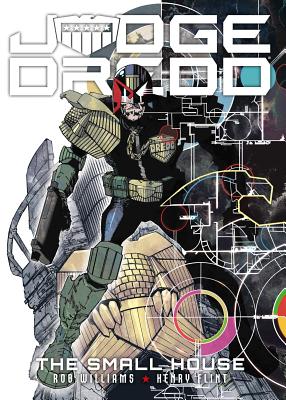 Judge Dredd (Paperback)
The Small House: The Small House
2000 AD, 9781781087411, 96pp.
Publication Date: September 3, 2019
* Individual store prices may vary.
Description
The critically-acclaimed and fan-lauded latest Judge Dredd tale which sent shockwaves through the universe and Mark Millar called "one of the best runs ever!"

Everything is at stake and no-one is safe – in the critically-acclaimed storyline from Rob Williams and Henry Flint, Judge Dredd and his team of hand-picked allies finally takes on the nefarious Judge Smiley, Mega-City One's behind-the-scenes manipulator – but who will be left standing at the end? And with tensions with Chief Judge Hershey at breaking point, has Dredd finally met his match?
About the Author
Rob Williams is the writer of Suicide Squad and Martian Manhunter for DC Comics, Unfollow for Vertigo and Doctor Who: The Eleventh Doctor for Titan Comics. His previous work for 2000 AD includes Judge Dredd: Titan, The Grievous Journey Of Ichabod Azrael (And The Dead Left In His Wake) and The Ten-Seconders and he is currently writing Roy of the Rovers for Rebellion