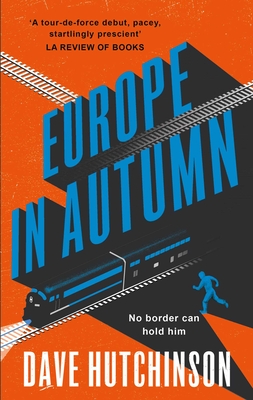 Europe In Autumn (The Fractured Europe Sequence ) (Paperback)
Solaris, 9781781087817, 320pp.
Publication Date: January 7, 2020
Other Editions of This Title:
Mass Market (1/28/2014)
* Individual store prices may vary.
Description
The multiple award-nominated visionary thriller of future espionage, broken borders, people smuggling, betrayal and an impossible secret The Guardian called, "a spellbinding novel of intrigue and paranoia".

Europe as we know it is gone.

Devastated by a flu pandemic and crippled by economic collapse, the continent has fractured into countless tiny nations, a fragile web of shifting alliances seething with espionage and strange new technologies.

In a small restaurant in Krakow, chef Rudi is drawn into a new career with Les Coureurs des Bois, a shadowy organisation that will move anything across any state line – for a price.

Soon, Rudi is in a world of high-risk smuggling operations, where kidnappings and double-crosses are as natural as a map that constantly redraws itself.

"One of the most sophisticated science fiction novels of the decade: a tour-de-force debut, pacey, startlingly prescient, and possessed of a lively wit that never fails to convince and charm its readers." --LA Review Of Books

"Pitch-perfect, bursting with the same charisma and intricate world-building as its predecessor... Europe at Midnight is high-powered fiction of the cleverest sort." --LA Review Of Books

"Hutchinson writes wonderfully, his prose animated not just by a keen eye for character, but by a blackly witty sense of humor, qualities that make Europe at Midnight both darkly entertaining and disturbingly timely." --Locus

"With seemingly effortless literary flair, Hutchinson reveals how the stories intersect in a complex, unsettling allegory of political manoeuvring, subterfuge and statecraft." --The Guardian

'One of the best novels I've read in a long time.' - Adam Roberts, The Guardian

'Europe in Autumn is the work of a consummate storyteller and combines great characters, a cracking central idea, and a plot that will keep you on the edge of your seat. Excellent.' - Eric Brown
About the Author
Dave Hutchinson was born in Sheffield. After reading American Studies at the University of Nottingham, he became a journalist. He's the author of five collections of short stories and one novel, and his novella The Push was shortlisted for the 2010 BSFA award for short fiction. He has also edited two anthologies and co-edited a third. His short story The Incredible Exploding Man featured in the first Solaris Rising anthology, and appeared in the Year's Best Science Fiction collection. The Fractured Europe Sequence has been nominted for multiple awards including the Arthur C. Clarke Award, the John W. Campbell Memorial Award, and The British Science Fiction Award. He lives in north London with his wife and several cats.
Praise For Europe In Autumn (The Fractured Europe Sequence )…
"Dave Hutchinson's Europe in Autumn, presents a near-future Europe fractured into hundreds of nations or "polities", each with its own strictly controlled border. The Les Coureurs des Bois is a shady organisation which delivers packages, and sometimes people, across these borders. Estonian chef Rudi, working in Krakow when the novel opens, is drawn into the organisation and finds himself embroiled in ever more complex situations. Hutchinson draws a convincing picture of a fragmented continent - he's especially good at describing the industrial wasteland of the former Poland - as Rudi finds his life under threat. Unable to trust anyone, especially Les Coureurs, Rudi attempts to work out who wants him dead, and why. The author's authoritative prose, intimate knowledge of eastern Europe, and his fusion of Kafka with Len Deighton, combine to create a spellbinding novel of intrigue and paranoia."
— The Guardian

"One of the most sophisticated science fiction novels of the decade: a tour-de-force debut, pacey, startlingly prescient, and possessed of a lively wit that never fails to convince and charm its readers."

— LA Review Of Books

"Pitch-perfect, bursting with the same charisma and intricate world-building as its predecessor... Europe at Midnight is high-powered fiction of the cleverest sort."
— LA Review Of Books

"Hutchinson writes wonderfully, his prose animated not just by a keen eye for character, but by a blackly witty sense of humor, qualities that make Europe at Midnight both darkly entertaining and disturbingly timely."
— Locus

"With seemingly effortless literary flair, Hutchinson reveals how the stories intersect in a complex, unsettling allegory of political manoeuvring, subterfuge and statecraft."
— The Guardian

'One of the best novels I've read in a long time.'
— Adam Roberts

'Europe in Autumn is the work of a consummate storyteller and combines great characters, a cracking central idea, and a plot that will keep you on the edge of your seat. Excellent.'
— Eric Brown

'A spellbinding novel of intrigue and paranoia.'
— The Guardian

'An awesome concoction of sci-fi and spies.'
— Tor.com

'High-octane thrills, mind-twisting concepts, smart and engaging storytelling.'
— Locus

'A tour-de-force debut, pacey, startlingly prescient.'
— LA Review of Books