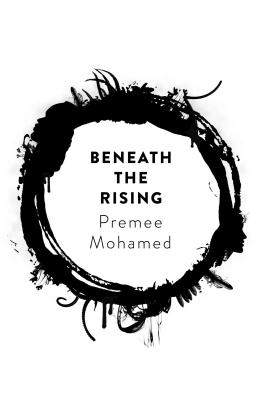 Beneath The Rising (Paperback)
Solaris, 9781781087862, 416pp.
Publication Date: March 3, 2020
* Individual store prices may vary.
Description
All the Birds in the Sky meets Lovecraft Country in this whimsical coming-of-age story about two kids in the middle of a war of eldritch horrors from outside spacetime…

HOPE HAS A PRICE

Nick Prasad has always enjoyed a quiet life in the shadow of his best friend, child prodigy and technological genius Joanna 'Johnny' Chambers. But all that is about to end.

When Johnny invents a clean reactor that could eliminate fossil fuels and change the world, she awakens primal, evil Ancient Ones set on subjugating humanity.

From the oldest library in the world to the ruins of Nineveh, hunted at every turn, they will need to trust each other completely to survive…
About the Author
Premee Mohamed is a scientist and writer based out of Alberta, Canada. She has degrees in molecular genetics and environmental science, but hopes that readers of her fiction will not hold that against her. Her short speculative fiction has been published in a variety of venues, which can be found on her website at www.premeemohamed.com. She can be located with some reliability on Twitter at @premeesaurus.
Praise For Beneath The Rising…
"A wonderful genre-defying adventure, rife with strange heart and weird horror. But most notable is its particular, careful attention to its characters. Premee Mohamed is a bold new voice."
— Chuck Wendig

"One of those wonderful books that keeps peeling back layers, not of some cosmic mystery, but of its two main characters. Nicky and Johnny end up being much more complex and ambiguous than they appear at the start of this book, and every reveal is gasp-out-loud astonishing."
— Charlie Jane Anders

"A perfect balance of thriller, horror and humour; reminded me of The Gone-Away World."
— Adrian Tchaikovsky

"Premee Mohamed writes with a joyous velocity that careens through genre-lines, whipping the reader helplessly after her. One of the most exciting voices I've heard in a long time."
— John Hornor Jacobs

"Gripping from the first, arresting sentence to the last, this is unsettling, mind-devouring cosmic horror at its best, wrapped around one of those captivating noooo-this-is-a-terrible-idea-but-why-what-noooo relationships."
— Jeannette Ng

"One of the most exciting new voices in speculative fiction."
— Silvia Moreno-Garcia

"I wish I could provide a short and pithy blurb for this novel, but I can't. It's too involving a book, too good a book for that. It quietly drills holes in your expectations, sliding demolitions charges into them, running the wires back to a detonator, and then—when you reach the climax—it quietly says 'You can't say you weren't warned' (and you were), before quietly leaning on the plunger, at which point, things stop being quiet at all."
— Jonathan L. Howard

"There's such a searing clarity to its understanding of the world. It's loving, too; it's affectionate of the people and the neuroses and the gentle way we are all damaged. It relishes the few things still beautiful here. Premee is one of the funniest people I know and one of the sweetest; and she reminds me that it is hard not be angry at this world when you love it."
— Cassandra Khaw

"A galloping global adventure where privilege and the lies we tell others are as great a villainous force as the budding cthulonic forces the heroes must rush to stop."
— Bo Bolander