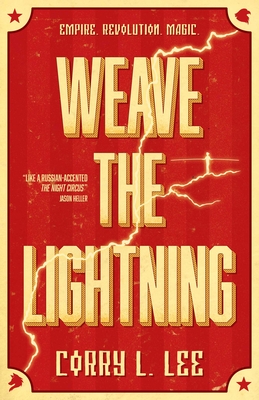 Weave The Lightning (Paperback)
Solaris, 9781781087909, 400pp.
Publication Date: April 7, 2020
* Individual store prices may vary.
Description
Russian-inspired epic of magical revolution & romance

Empire. Revolution. Magic.

Gerrit is the son of the Supreme General of Bourshkanya, but he can't control his magic. When he's told to create magicially-enhanced weapons, he does the unthinkable; he runs away.

Celka is a travelling circus performer, hiding her links to the underground revolutionaries and her storm-affinity from the prying eyes of the state. But Gerrit's arrival threatens to expose everything; her magic, her allegiances, and her secrets.

The storms have returned.
About the Author
Corry L. Lee has a PhD in physics from Harvard University and works as a data scientist at a major tech company. She attended the Odyssey Writing Workshop, and her short story "Shutdown" won the Writers of the Future contest in 2011 (Vol 28). When not writing or thinking about data, Corry loves doing yoga, listening to French audiobooks to keep ahead of her 4-year-old's French, exploring the zoo, hiking, and attending the theatre. She lives in Seattle, Washington, and is starting to accept rainy days.