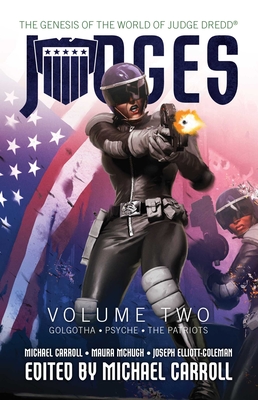 JUDGES Volume Two
The genesis of the world of Judge Dredd
Paperback

* Individual store prices may vary.
Description
The second volume of the hit new series exploring the early history of 2000 AD's all-powerful "Judges."

UNITED STATES OF AMERICA, 2041 A.D.

Eustace Fargo's new justice system has been in effect for eight years. The old days of waiting times and backlogs are over: judgement is quick, and sentencing is instantaneous. The old police academies have all shut down, and the new order is triumphant.

But are things any better? Unrest is worse than ever. Criminals are more likely to kill rather than be caught.

There's a war coming for the streets…

This omnibus collects three novellas by Michael Carroll, Joseph Elliott-Coleman and Maura McHugh.
Abaddon, 9781781087930, 432pp.
Publication Date: May 26, 2020
About the Author
Maura McHugh was born in the USA, but raised in Ireland, where she developed a love of mythology, horror fiction, art, and writing. She has lived in New York, Dublin, and Galway, and worked in IT before succumbing to her love of storytelling. She's the writer of the comic book series Jennifer Wilde and Róisín Dubh, and co-writer of Witchfinder: The Mysteries of Unland. She's the author of the fairy tale collection, Twisted Fairy Tales, and the collection of world myths, Twisted Myths. She's also a published poet, a produced playwright, and a screenwriter. She loves exploring the woods: the darker, the wilder, the better.