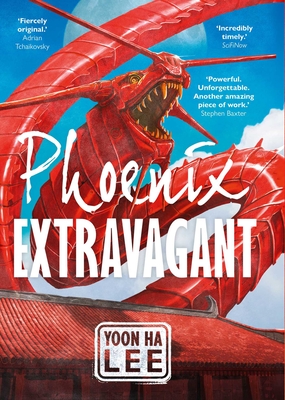 Phoenix Extravagant (Hardcover)
Solaris, 9781781087947, 416pp.
Publication Date: October 20, 2020
* Individual store prices may vary.
Description
The new blockbuster original fantasy work from Nebula, Hugo and Clarke award nominated author Yoon Ha Lee!

"An arresting tale of loyalty, identity, and the power of art... Lee's masterful storytelling is sure to wow." - Publishers Weekly, starred review

Gyen Jebi isn't a fighter or a subversive. They just want to paint.

One day they're jobless and desperate; the next, Jebi finds themself recruited by the Ministry of Armor to paint the mystical sigils that animate the occupying government's automaton soldiers.

But when Jebi discovers the depths of the Razanei government's horrifying crimes—and the awful source of the magical pigments they use—they find they can no longer stay out of politics.

What they can do is steal Arazi, the ministry's mighty dragon automaton, and find a way to fight…

"Phoenix Extravagant is a book containing ruminations on imperialism, the function and sanctity of art, acculturation, and the morality of love. It also contains a bloody big and unexpectedly adorable mechanical dragon." - Jonathan L. Howard, author of the Johannes Cabal books
About the Author
Yoon Ha Lee's novel Ninefox Gambit came out from Solaris in 2016 and quickly garnered massive critical acclaim and was short-listed for the Arthur C. Clarke, Hugo and Nebula Awards. It won the Best First Novel Award in the Locus Awards and the Reddit Fantasy Award. His story collection Conservation of Shadows was released by Prime Books in 2013. He lives in Louisiana with his family and an extremely lazy cat, and has not yet been eaten by gators.
Praise For Phoenix Extravagant…
"An arresting tale of loyalty, identity, and the power of art... Lee's masterful storytelling is sure to wow."
— Publishers Weekly, starred review

"Phoenix Extravagant is a book containing ruminations on imperialism, the function and sanctity of art, acculturation, and the morality of love. It also contains a bloody big and unexpectedly adorable mechanical dragon."
— Jonathan L. Howard, author of the Johannes Cabal books

"Fiercely original."
— Adrian Tchaikovsky

"Powerful. Unforgettable. This is another amazing piece of work, and I have the feeling I need to read it again to get it fully!"
— Stephen Baxter

"… a smart, thought-provoking book, and one which feels incredibly timely."
— SciFiNow 4 star review

"A story of art, love, human connection, the power of creation, colonialism, and the roles we all have to play in fighting oppression."
— Paul Weimer

"Phoenix Extravagant marks a different way of looking at Empire and power and living within, under, and against that than Lee's first novels, but no less a powerful one. A fantastic, brilliant undertaking."
— Waterstones Bookseller's Review

"A powerful, deeply moving book that is a wonderful read, without question one of the best of the year."
— Every Book a Doorway