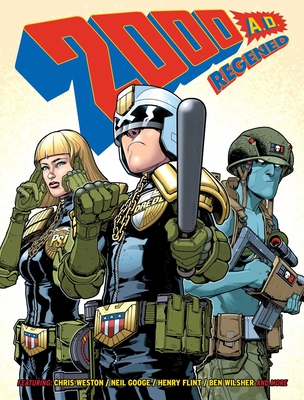 2000 AD Regened Volume 1
Paperback

* Individual store prices may vary.
Description
2000 AD Regened is a collection of comics written for younger readers. Featuring all-ages re-imaginings of the all-time great legacy 2000 AD characters

A thrill-powered collection for Earthlets of all ages!

Join Cadet Dredd in four astonishing capers! Discover how Johnny Alpha became a teenage bounty-hunter Strontium Dog! Alien delinquents DR and Quinch hijack Free Comic Book Day! All this and more new takes on old favourites!
Praise For 2000 AD Regened Volume 1…
"Intense ... and packed with dense jokes, puzzles, games and marginalia ... a dense, chewy read of self-contained stories." -- NPR
— NPR

"It's great to see Rebellion do something new in targeting younger readers with such an uncynical and upbeat issue...especially with young women and people of colour front and centre in their character line-up ...packed with talented creators and original stories." -- Comics the Gathering
— Comics the Gathering

"The writing overflows with world-building and the end leaves you thirsty for more." -- All-Comic.con
— All-Comic.con

"Something for everyone with a stellar line-up of talent on some of the biggest characters in comics" -- The Comics Beat
— The Comics Beat
2000 AD, 9781781088135, 128pp.
Publication Date: January 5, 2021
About the Author
Chris Weston has drawn a vast array of 2000 AD and Megazine stories, including Indigo Prime, Downlode Tales, Future Shocks, Canon Fodder, Judge Dredd, Nemesis the Warlock, Nikolai Dante, Pulp Sci-Fi, Robo-Hunter, Rogue Trooper and Vector 13. Beyond 2000 AD, Weston's work includes Fantastic Four: First Family, Enemy Ace: War in Heaven, The Filth, The Invisibles, Ministry of Space and Garth Ennis's War Story: Johann's Tiger.

Alec Worley is a comics writer whose credits include Judge Dredd, Anderson, Age of the Wolf and Dandridge (all for 2000 AD), as well as Teenage Mutant Ninja Turtles and Star Wars (for Panini). He also writes fiction set in Games Workshop's Warhammer universe.

John Reppion has been writing for thirteen years. He has written comics with wife Leah Moore, including The trial of Sherlock Holmes, The Complete Dracula, Shadow over Innsmouth, Raise The Dead, and Damsels, he is a regular columnist for TheDailyGrail.com and writes articles for Fortean Times magazine. He is tired. So tired. Will work for beer. @johnreppion www.moorereppion.com