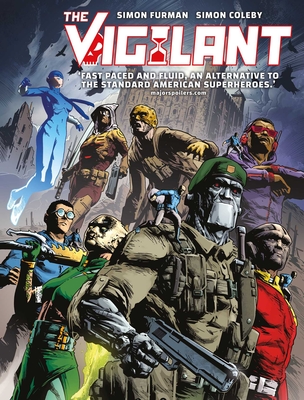 The Vigilant
Paperback

* Individual store prices may vary.
Description
Classic British Superheroes remade for a 21st Century audience by today's top graphic novel stars!

Lost in the mists of time, home-grown British superheroes once entertained and enthralled millions of kids…Now, the likes of Adam Eterno, Blake Edmonds, Thunderbolt the Avenger, and The Leopard from Lime Street are back for a new generation of readers.

This volume collects the trilogy of Vigilant stories written by Simon Furman (Transformers) and drawn by an all-star roster of artsists including Simon Coleby (Dark Souls), DaNi (Coffin Bound), Henrik Sahlstrom (Thirteenth Floor), Warwick Fraser-Combe, Staz Johnson (Spider-Man), Will Sliney (Spider-Man 2099), Jake Lynch (Judge Dredd)
Rebellion, 9781781088593, 128pp.
Publication Date: April 13, 2021
About the Author
Best known for writing Transformers comics, Simon Furman was instrumental in making Marvel UK a success. During the eighties and nineties he worked on many titles for them, including the aforementioned Transformers and also Action Force, Thundercats, Doctor Who Magazine as well as two series he helped create – Dragon's Claws and Death's Head. Simon has written several issues of Judge Dredd: Lawman of the Future and shared scripting chores with Dan Abnett on Marvel's Guardians of the Galaxy.