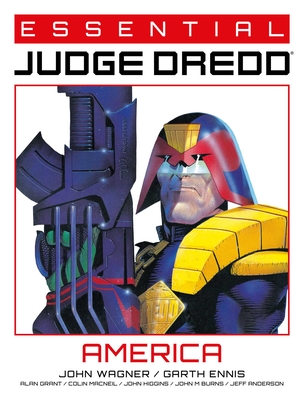 Essential Judge Dredd
America (Essential Judge Dredd )
Paperback

* Individual store prices may vary.
Description
The first volume of Essential Judge Dredd, a curated line of graphic novels showcasing the very best storylines of all time and presented in a fresh new package.

In Mega-City One, the Judges are the law – acting as judge, jury, and executioner. But how do the citizens really feel about a system where they are powerless? America Jara and Bennett Beeny grow up as best friends, living a fairly trouble-free life in a dangerous city… bar the odd, negative encounter with a Judge. Time draws them apart, and when they are brought back together, Beeny is a successful singer and America has become involved with a terrorist organisation known as Total War, which has the Justice Department in its sights!

This dark and complex tale, considered to be one of the best stories to ever come out of the Judge Dredd universe, has been contextualised with contemporarily thematic stories with re-coloured art by Watchman's John Higgins
2000 AD, 9781781088609, 160pp.
Publication Date: September 1, 2020
About the Author
John Wagner has been scripting for 2000 AD for more years than he cares to remember. His creations include Judge Dredd, Strontium Dog, Ace Trucking, Al's Baby, Button Man and Mean Machine. Outside of 2000 AD his credits include Star Wars, Lobo, The Punisher and the critically acclaimed A History of Violence.

Garth Ennis first came to prominence as writer on Troubled Souls, the Northern Ireland-set series he created with John McCrea for Crisis. As well as scripting its sequel, For a Few Troubles More, and True Faith (created with Warren Pleece) for that title, he was also a regular contributor to 2000 AD and the Judge Dredd Megazine, writing Judge Dredd, Strontium Dogs, The Corps, Time Flies, Chopper, and Sleeze 'n' Ryder. Outside of the Galaxy's Greatest Comic, his well-received run on Hellblazer was followed by Preacher, the hugely successful DC Vertigo series he created with Steve Dillon, as well as titles such as Hitman, Goddess, Bloody Mary, and a lengthy run on The Punisher. He is currently writing The Boys and war series Battlefields, both of which are published by Dynamite Entertainment.