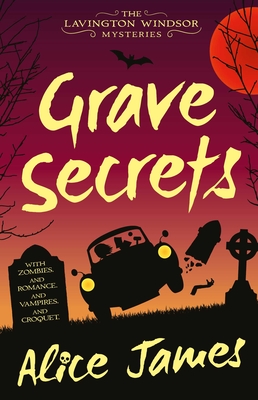 Grave Secrets (The Lavington Windsor Mysteries #1)
Paperback

* Individual store prices may vary.
Description
Agatha Raisin meets Sookie Stackhouse, with croquet and crumpets.

An adventure with zombies. And vampires. And romance. And croquet.

Toni Windsor is trying to live a quiet life in the green and pleasant county of Staffordshire. She'd love to finally master the rules of croquet, acquire a decent boyfriend and make some commission as an estate agent...

...but first she's got to deal with zombies rising from their graves, vampires sneaking out of their coffins and a murder to solve.

It's all made rather more complicated by the fact that she's the one raising all the zombies—oh, and she's dating one of the vampires. Really, what's a girl meant to do?
Praise For Grave Secrets (The Lavington Windsor Mysteries #1)…
"Dead funny." -- Mark Beech

"Alice James raises the zombie genre from the grave, dusts it off and gives it a brand new lease of life." - Jack Hayes

"Heads up to all fans of True Blood and Buffy, our new favourite heroine is here, she's a necromancer, and she's kind of a hot mess!" – NetGalley review
— Netgalley

"A fun filled, laugh out loud page turner." -- NetGalley review
— Netgalley

"A thrilling five-star read." -- NetGalley review
— Netgalley

"Fun, fast debut... Fans of Charlaine Harris's Sookie Stackhouse will want to check out Toni." -- Publishers Weekly
— Publishers Weekly

"Perfect for fans of Charlaine Harris and Gail Carriger." -- Library Journal
— Library Journal

"Toni is perfectly hilarious and the zombies are delightful." -- San Francisco Book Review
— San Francisco Book Review

"A gory and amusing romp." -- Financial Times
— James Lovegrove
Solaris, 9781781088616, 298pp.
Publication Date: September 1, 2020
About the Author
Alice James was born in Staffordshire, where she grew up reading novels and spending a lot of time with sheep. She was lucky enough to have a mother who was addicted to science fiction and a father who was fond of long country walks, so she grew up with her head in the stars and her feet on the ground. After studying maths at university and training to be a Cobol programmer(!), she began writing novels to get the weird people in her head to go somewhere else. She now lives in Oxfordshire with a fine selection of cats, fulfilling her teenage gothic fantasies by moving into a converted chapel with an ancient spiral staircase—and gravestones in the garden. Her go-to comfort dish is a big plate of dumplings, her number one cocktail is a Manhattan and her favourite polygon is a triangle, though she has a soft spot for concave rhomboids.