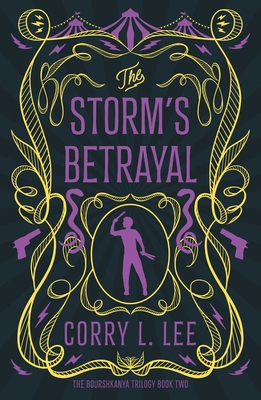 The Storm's Betrayal (The Bourshkanya Trilogy #2)
Paperback

* Individual store prices may vary.
Description
The intense, dramatic sequel to 2019's break-out Russian-inspired epic Weave the Lightning.

"A sweeping epic of romance, revolution, elegant strangeness, and elemental magic." – Jason Heller

Lies. Magic. Treason.

The great Stormhawk—Bourshkanya's paranoid, fascist leader—is seemingly unkillable, but for the rebellion to succeed, he must die.

Celka Prochazka uses magic in ways no one believed possible. She could be the perfect resistance assassin—if she can avoid being discovered as a traitor.

Gerrit Kladivo, the Stormhawk's son, is determined to end his father's tyrannical rule. But to get Celka close enough to his father, he must first prove unflinching loyalty to the regime.

Filip Cizek swore his life to protect Gerrit and the regime. But with Gerrit's actions twisting him into a stranger, Filip must decide how deep his loyalty runs.

Together, they will attempt the impossible—but the cost may be everything they hold dear.

"Tense, timely, and crackling with urgent energy. I guarantee that by the end of the book, you will be looking for your own resistance to join... or to start." – Premee Mohamed

"Lee's debut is a dazzling and timely high-wire act." - Ian Tregillis author of the Alchemy Wars Trilogy

"... focused and honed as a lightning strike, beautifully balanced and directed. This is a cutting story of revolution, rebellion, romance, and the sort of strange sorcery that we don't see very often..." -- Seanan McGuire
Solaris, 9781781088760, 512pp.
Publication Date: April 27, 2021
About the Author
Corry L. Lee has a PhD in physics from Harvard University and works as a data scientist at a major tech company. She attended the Odyssey Writing Workshop, and her short story "Shutdown" won the Writers of the Future contest in 2011 (Vol 28). When not writing or thinking about data, Corry loves doing yoga, listening to French audiobooks to keep ahead of her 4-year-old's French, exploring the zoo, hiking, and attending the theatre. She lives in Seattle, Washington, and is starting to accept rainy days.