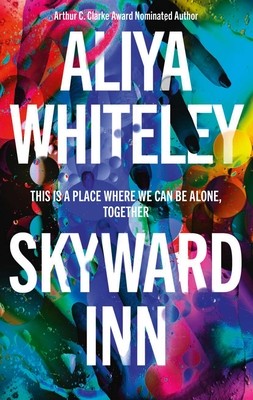 Skyward Inn
Hardcover

* Individual store prices may vary.
Description
A thoughtful, literary novel about conflict, identity and community, after Earth makes contact with the seemingly harmless planet Qita.

Drink down the brew and dream of a better Earth.

Skyward Inn, within the high walls of the Western Protectorate, is a place of safety, where people come together to tell stories of the time before the war with Qita.

But safety from what? Qita surrendered without complaint when Earth invaded; Innkeepers Jem and Isley, veterans from either side, have regrets but few scars.

Their peace is disturbed when a visitor known to Isley comes to the Inn asking for help, bringing reminders of an unnerving past and triggering an uncertain future.

Did humanity really win the war?

This is Jamaica Inn by way of Jeff Vandermeer, Ursula Le Guin, Angela Carter and Michel Faber, a beautiful story of belonging, identity and regret.
Praise For Skyward Inn…
"Skyward Inn is an experience. Whiteley is a strong voice in speculative fiction and readers will be delighted and unsettled by her novels for years to come." -- The Nerd Daily
— Kibby Robinson

"Whiteley takes the reader on a cryptic journey of trust, identity and knowing your place in the world." -- Starburst Magazine
— Fred McNamara

"A moving and thought provoking tale, completely unlike anything I've read before." -- The Bibliophile Chronicles
— The Bibliophile Chronicles

"There are some books that are simply beautiful. And Skyward Inn by Aliya Whiteley is one of those." -- Libri Draconis
— Libri Draconis

"Whiteley's trademark subtle surrealism shines." -- Publishers Weekly
— Publishers Weekly

"A melancholy and compellingly weird tale of identity in crisis." -- SFX
— Will Salmon

"Skyward Inn feels like an instant classic of the genre." -- The Guardian
— Lisa Tuttle

"A beautifully realised story, with achingly engaging prose." -- The British Fantasy Society
— The British Fantasy Society

"Rarely has a writer who is not Philip K. Dick had so much fun building a world only to take it apart." -- LA Times
— Noah Berlatsky

"A vital contribution to modern speculative fiction and a novel to be read and reread and pondered at length." -- The Fantasy Hive
— Jonathan Thornton

"A unique work of literary and speculative excellence." -- SciFiNow
— Bert Peterson

"When it comes to misdirection, Aliya Whiteley is the very devil." -- The Times
— Simon Ings

The Times SF Book of the Month
— The Times

"Whiteley explores questions of identification, attachment and belonging, tying everything together in a wonderfully surreal and weirdly uplifting denouement." -- The FT
— James Lovegrove

"Skyward Inn is a quietly disarming and beautiful book that masterfully blends literary conventions with science fiction." -- Dark Matter Magazine
— Alexander Pyles
Solaris, 9781781088821, 300pp.
Publication Date: March 16, 2021
About the Author
Aliya Whiteley is one of the most exciting talents in the UK. The author of five books of speculative fiction, including the Arthur C. Clarke Award shortlisted The Loosening Skin. Her novels have been shortlisted for many awards, including the Clarke Award, the Shirley Jackson Award and the James Tiptree Jr. Award. She lives in Sussex with her husband and teenage daughter.