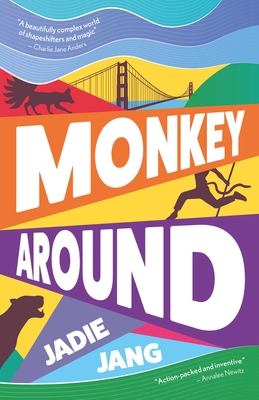 Monkey Around
Paperback

* Individual store prices may vary.
Description
The debut novel from Jadie Jang is an action-packed urban fantasy delivering a bold new take on the Monkey King in San Francisco - complete with murder and mayhem!

San Francisco has a Monkey King — and she's freaking out.

Barista, activist, and were-monkey Maya McQueen was well on her way to figuring herself out. Well, part of the way. 25% of the way. If you squint.

But now the Bay Area is being shaken up. Occupy Wall Street has come home to roost; and on the supernatural side there's disappearances, shapeshifter murders, and the city's spirit trying to find its guardian.

Maya doesn't have a lot of time before chaos turns up at her door, and she needs to solve all of her problems. Well, most of them. The urgent ones, anyhow.

But who says the solutions have to be neat? Because Monkey is always out for mischief.
Praise For Monkey Around…
"Fans of new takes on folklore will want to check this out." -- Publishers Weekly
— Publishers Weekly

"Engaging characters, intriguing creatures, and thrilling action scenes."
— B?uzzFeed

"Jang has put a wonderful amount of thought into a brisk, action-packed story." -- Sia, Blogger - Every Book a Doorway

"Jadie Jang's kaleidoscopic debut is a fresh, original take on the Chinese mythical figure the Monkey King, repackaged in a spellbinding urban fantasy." -- Ms. Magazine

"Immensely enjoyable urban fantasy." -- K.J. Charles, author of A Charm of Magpies series

"[Monkey Around] uses myths to inform the world, but never bows to them, this feels like a very contemporary book" -- SF Book Reviews
Solaris, 9781781089200, 405pp.
Publication Date: August 3, 2021
About the Author
Claire Light (writing as Jadie Jang) is almost as organizy as her characters. She started a magazine (Hyphen) and an arts festival (APAture) with a cast of Asian Pacific Americans even more magical, if less supernatural, than the ones she writes about. She also got an MFA, went to Clarion West, and compromised between the two by publishing a collection of "literary" sci-fi short stories (Slightly Behind and to the Left) that maybe 100 people read. After wrangling arts and social justice nonprofits for 17 years, her already autoimmune-disease-addled body threw a seven-year-long tantrum, leading our then-house-bound heroine into an urban fantasy addiction. A few years, and a dozen Euro-centric-mythology-dominated urban fantasy series later, Claire sat up and said "I can do this!" and Jadie Jang, the part of her brain that writes snarky-fun genre romps, was born. She posts about monkeys every Monday under @seelight on Twitter.