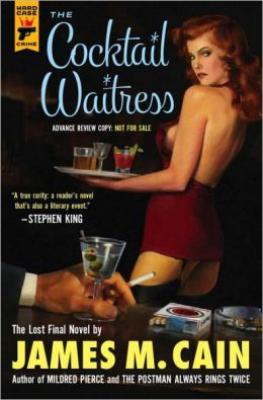 The Cocktail Waitress
Paperback

* Individual store prices may vary.
Other Editions of This Title:
Digital Audiobook (9/17/2012)
Compact Disc (9/1/2012)
Mass Market Paperback (6/1/2014)
Compact Disc (7/16/2013)
Hardcover (9/18/2012)
Description
"The Cocktail Waitress will involve you, and then shock you with an ending you'll never forget. This is a true rarity: a reader's novel that's also a literary event." - Stephen King

Following her husband's death in a suspicious car accident, beautiful young widow Joan Medford is forced to take a job serving drinks in a cocktail lounge to make ends meet and to have a chance of regaining custody of her young son. At the job she encounters two men who take an interest in her, a handsome young schemer who makes her blood race and a wealthy but unwell older man who rewards her for her attentions with a $50,000 tip and an unconventional offer of marriage...
Praise For The Cocktail Waitress…
"This is vintage Cain ... Let's go get that book, baby. Let's read it. Let's get stinko." – The Washington Post

"entertaining and cleverly plotted" – Editors' Choice, New York Times

"Fittingly for the endpoint of a long and meaningful career, Cain saves his best twist for the very last page of his very last book, a haymaker from the blind side, so carefully finessed and camouflaged through the book as to bring a tear to a glass eye — another writer's jealous acknowledgment. It is a moment that draws Joan's world and Cain's view of desire and consequence into tight focus. One thinks of the author well into his ninth decade, setting down those final passages with a hidden smile and a writer's certain knowledge that they won't see this coming. He was right." – New York Times

"I think James M. Cain is one novelist who has something to teach just about any writer, and delight just about any reader. The Postman Always Rings Twice was a work of genius. So it's good news that The Cocktail Waitress, Cain's last novel has finally been published." – Anne Rice

"Swift and absorbing…pulses with more authentic primal energy than the work of any number of Cain imitators from the 1930s to the present." – Wall Street Journal

"The Cocktail Waitress was found among his papers after a decade-long search and has never been published…until now. After burying her abusive husband on page 1 of the book, Joan takes a job waitressing to make ends meet, and winds up meeting two new men: a wealthy but repulsive older man and a handsome young schemer who makes her blood boil. Can you have any doubt that things will end badly for one or both of them? No, that's not a spoiler – it's a simple statement of fact when you're talking about a Cain femme fatale, the deadliest species there is." – Huffington Post

"The Cocktail Waitress is a not-to-be missed crime thriller for all Cain fans ... A rare, hardboiled blast from the past." – Shelf Awareness

"It's easy to fall for a previously unpublished work by Cain, whose oeuvre includes The Postman Always Rings Twice (1934) and Double Indemnity(1943). Fortunately, The Cocktail Waitress—which the author sought to complete before perishing in 1977—serves up ample delights (and a few familiar themes). It tells of Joan Medford, a captivating young mother whose abusive hubby has died under odd circumstances, and who then takes a job waiting tables in a dodgy cocktail lounge. There she meets a loaded elderly gent with a bum ticker, Earl K. White III, as well as the grabby, calculating Tom Barclay. She weds White out of pragmatism, rather than passion; but tensions in the continuing relationships between these three players guarantee trouble. We witness the unfolding drama through Joan's eyes, while wondering what she's withholding." – Kirkus

"the most important literary event of 2012 ... This book marks the greatest achievement of Hard Case Crime in its short existence ... ranks right up there with anything the author ever wrote in his prime. And in saying that, it is better than a lot of what gets published today ... Cain creates a timeless, claustrophobic nightmare that will rock you long after you put it down ... a noir masterpiece ... THE COCKTAIL WAITRESS is the book of 2012. And Hollywood should take note: this is going to be a great film noir movie someday." – Book Reporter

"This novel will capture you quickly." "It's spicy and riveting." "This is the kind of book that makes people want to read Hard Case Crime. It's perfect as an introduction to crime novels or as a refreshing new offering from an old favorite." "You're definitely going to want to pick up a copy." – DNM Magazine

"The Cocktail Waitress is another gem for Cain fans - and all lovers of classic noir." – Noir Journal

Books of the year in the Evening Standard (London): "The posthumous publication of James M Cain's The Cocktail Waitress (Hard Case Crime, £16.99) showed the third great noir master – after Hammett and Chandler – as acute on febrile sexuality and dark human urges at the end of his life as he was in Double Indemnity.

"The work is spellbinding and compelling, in the end challenging one's values, beliefs, and prejudices." – San Francisco Book Review
 
Hard Case Crime, 9781781160343, 288pp.
Publication Date: July 16, 2013
About the Author
James M Cain achieved worldwide overnight fame when he published his first novel, The Postman Always Rings Twice, in 1934.  The classics Double Indemnity and Mildred Pierce followed, reinforcing Cain's reputation as the great chronicler of crimes of passion, typically set against a working-class backdrop during the Great Depression. His books have inspired many classic movies.