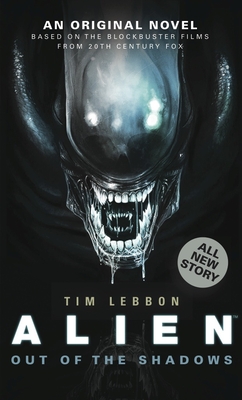 Alien (Mass Market)
Out of the Shadows (Novel #1)
Titan Books, 9781781162682, 352pp.
Publication Date: January 28, 2014
Other Editions of This Title:
MP3 CD (3/12/2019)
* Individual store prices may vary.
Description
THE FIRST IN AN ALL NEW, OFFICIAL TRILOGY SET IN THE ALIEN UNIVERSE!

Featuring the iconic Ellen Ripley in a terrifying new adventure that bridges the gap between Alien and Aliens. Officially sanctioned and true to the Alien canon, Alien: Out of the Shadows expands upon the well-loved mythos and is a must for all Alien fans.
About the Author
Tim Lebbon is the New York Times bestselling author of the movie novelization of 30 Days of Night andThe Cabin in the Woods. He has also written many critically acclaimed horror and dark fantasy novels, including Dusk, Fallen and The Island. Tim has won three British Fantasy Awards, a Bram Stoker Award, a Shocker, a Tombstone and been a finalist for the International Horror Guild and World Fantasy Awards.
Praise For Alien: Out of the Shadows (Novel #1)…
"Lebbon's ability to make this a perfect fit is pretty damn amazing. And the telling of this tale in and of itself, without regard to external continuity, is a thing of beauty. Set between the first two films, it aptly captures the flavor of both, melded into one dark work of art. It contains the claustrophobia and shadowy, stark fear, not to mention the brilliant simplicity, of ALIEN, with the weapons-toting action thrills of the second." – Book Devil

"A gripping and recommended read" - Project Fandom

"If you're a fan of Xenomorphs or just enjoy great sci-fi/horror books, then you should definitely check out this novel." - Rely on Horror 

"Lebbon provides some juicy details and ideas concerning the origins of the xenomorphs while adding to Ripley's personal yet-to-be-discovered connection to the monsters." - High Def Digest

"The writing was excellent. The pacing was spot on. Lebbon nailed Ripley's voice so that every time I read a line of her dialogue I heard Sigourney Weaver's voice in my mind." - Blogcritics

"A fun read." - LA Beat 

"Lebbon weaves a Xenomorph-ridden thrill ride, that perfectly slides into the established canon of the everlasting Alien series." - Mind of Tatlock

"Lebbon is an amazing story teller." - Ravenous Monster

"Tim Lebbon has been a terrific author from the jump, and he was the perfect man for this specific job. Lebbon's care for words and attention to detail proves to be profoundly rewarding, as Alien: Out of the Shadows is the finest venture back into the world of the xenomorph since Ridley Scott's Prometheus (which, in my opinion is only eclipsed by Alien and Aliens, despite the fact that I love the silly Alien vs. Predator). This is one of the finest – if not the finest film tie-ins I've read in years. And believe it or not, Out of the Shadows could well prove to be one of the year's very best." - Horror Novel

"The aliens are just as menacing and brutal as always, but the real horror of the novel lies in the suspense elements." - Smart Girls Love SciFI 

"Plenty of nail-biting scenes." - Geek Dad

"The writing is superb." - Tracing the Stars

 "Even if you have a passing interest in the Alien universe this book comes recommended, deftly balancing appeal to casual readers and hardcore fans alike. Gorge on it and squirm at the gore." - Legend of Geek

"Tim Lebbon does a fine job bringing another Ellen Ripley adventure to life...If you're a fan of ALIENS then it's a MUST read." - Retrenders

"Manages to recreate the some of the better elements of the franchise." - Renegade Cinema

"I had trouble putting this one down." - Fangirl Confessions 

"Succeeds brilliantly is in its action sequences" - Den of Geek

"For an Alien-based story, Out of the Shadows does exactly what it's supposed to do. It's Ripley and pals vs. Aliens, with all the face-huggering, hive-resinning, chest-bursting mayhem you can shake a plasma torch at." - Pop Mythology 

"With high drama and non-stop suspense, Alien: Out of the Shadows is a quick read and a must have for fans of the Alien franchise." - The Geek Girl Project 

"Lebbon has put together a fully realized Alien universe story that measures up to the best of the franchise.  It's a story that fans probably would have hoped to see instead of what ended up in Prometheus." - Borg.com

"This book? So good. So twisty. So deathy." - BookRiot