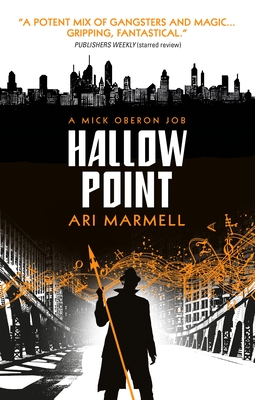 Hallow Point (Paperback)
A Mick Oberon Job Book 2
Titan Books, 9781781168257, 400pp.
Publication Date: August 18, 2015
Other Editions of This Title:
Mass Market (10/25/2016)
* Individual store prices may vary.
Description
The Spear of Lugh, one of the four Kingly Hallows of Ireland is in Chicago. And everyone, everyone wants it, for it is said that he who carries the spear into battle cannot be defeated. Among those who seek it are an agent of the infamous Wild Hunt; a mobster who knows far more about these things than he should; and of course both the Seelie and Unseelie Courts – the last people PI Mick Oberon would want getting hold of the spear...
About the Author
Ari Marmell is a fantasy writer with novels and short stories published through Spectra (Random House), Pyr, Wizards of the Coast, and others. He is the author of role-playing game materials for Dungeons & Dragons and the World of Darkness line, as well as the tie-in novel to the hit video game Darksiders. He lives in Austin, Texas with his wife, George.
Praise For Hallow Point: A Mick Oberon Job Book 2…
"Amazing, in part because it seems so effortless" - Reviewing the Evidence 

"Marmell builds a fun world. The use of luck as a shield and weapon seems almost like a sly commentary on action heroes who have too-coincidental near misses while their foes suffer from a rash of jammed triggers and bad aim. And who knew that gangsters would combine so well with boggarts and leprechauns?" - Paper Droids

"Among the best urban fantasy novels I have read." - Rising Shadow