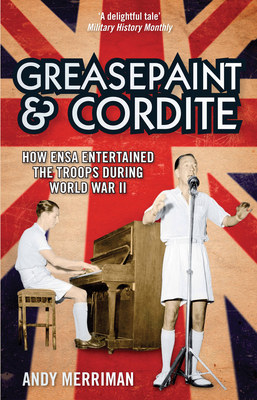 Greasepaint and Cordite (Paperback)
How ENSA Entertained the Troops During World War II
Aurum Press, 9781781311622, 320pp.
Publication Date: August 1, 2014
Other Editions of This Title:
Paperback, Large Print (3/27/2014)
* Individual store prices may vary.
Description
Once the Second World War had broken out, it soon became clear that morale would be crucial in the military effectiveness of our armed forces. And so was born the Entertainment National Services Association, or ENSA â?? to send the nationâ??s best singers, dancers, musicians and comedians, from Noël Coward to Gracie Fields, to entertain the troops, however far away they might be.
Over the course of the war ENSA gave their first break to such postwar stars as Tommy Cooper and Frankie Howerd, as well as enshrining the young Vera Lynn forever as the forcesâ?? sweetheart. When Allied troops landed in Normandy in 1944, George Formby followed close behind, while a distinguished troupe under Laurence Olivier was performing Shakespeare to British soldiers in Hamburg within weeks of the German surrender.
Now, Andrew Merriman has talked to surviving ENSA veterans from Vera Lynn to Dame Beryl Grey, to piece together the extraordinary adventures of the ordinary men and women sent out across the world â?? even to inhospitable, dangerous Burma â?? whose contribution to the war effort was song, dance and laughter.
About the Author
Andy Merriman is the author of several books, including Greasepaint and Cordite, the story of the young entertainers sent out to war to dance and sing, Margaret Rutherford: Dreadnought with Good Manners, Hattie, the authorised biography of Hattie Jacques, and A Minor Adjustment, a book about his daughter who has Down's syndrome. Andy, who writes for radio and television, lives in London with his wife and three children.
Praise For Greasepaint and Cordite: How ENSA Entertained the Troops During World War II…
 'This book has many stories in which the importance of entertainment shines through.'
'Affectionate and admiring history.'
 â??This book has many stories in which the importance of entertainment shines through.â??
'Merriman's colourful book aims to rebalance attitudes to the association through anecdotal evidence, first-hand accounts from surviving participants and by sketching in the wider historical context. Ensa was a heroic enterprise even if it was often ramshackle in organisation and erratic in its execution. Then again so as everything else at the time. After all there was a war on.'
'The story of how ENSA lifted the morale of our troops during the Second World War, often putting themselves in some danger, not least in the Far East.'
â??A delightful taleâ??
'Affectionate and admiring history.'
'Casts a revealing light on its starry cast.'
'Casts a revealing light on its starry cast.'
or
Not Currently Available for Direct Purchase