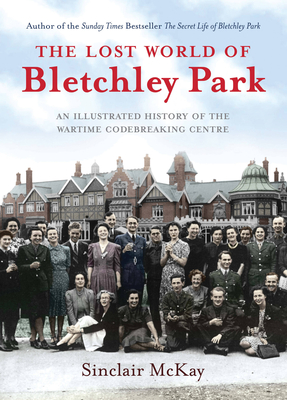 The Lost World of Bletchley Park (Hardcover)
The Illustrated History of the Wartime Codebreaking Centre
Aurum Press, 9781781311912, 192pp.
Publication Date: November 1, 2013
* Individual store prices may vary.
Description
The huge success of Sinclair's The Secret Life of Bletchley Park – a quarter of a million copies sold to date – has been symptomatic of a similarly dramatic increase in visitors to Bletchley Park itself, the Victorian mansion in Buckinghamshire now open as an engrossing museum of wartime codebreaking. Aurum is publishing the first comprehensive illustrated history of this remarkable place, from its prewar heyday as a country estate under the Liberal MP Sir Herbert Leon, through its wartime requisition with the addition of the famous huts within the grounds, from  the place where modern computing was invented and the German Enigma code was cracked, to its post-war dereliction and then rescue towards the end of the twentieth century as a museum whose visitor numbers have more than doubled in the last five years. Featuring over 200 photographs, some previously unseen, and text by Sinclair McKay, this will be an essential purchase for everyone interested in the place where codebreaking helped to win the war.
About the Author
SINCLAIR MCKAY is the bestselling author of The Secret Life of Bletchley Park, The Lost World of Bletchley Park, The Secret Life of Fighter Command and The Secret Listeners for Aurum, as well as histories of Hammer films, the James Bond films and the pastime of rambling. He lives in London. 
Praise For The Lost World of Bletchley Park: The Illustrated History of the Wartime Codebreaking Centre…
"Featuring vintage black-and-white as well as full-color photography throughout - over 200 photographs total, including many previously unpublished images from Bletchley Park's archives - The Lost World of Bletchley Park: An Illustrated History of the Wartime Codebreaking Centre lives up to its title as the definitive history of the Buckinghamshire codebreaking centre that achieved the nigh-unimaginable accomplishment of cracking the German Enigma codes. Their achievement had a crucial, possibly even decisive impact on the course of World War Two. Even before the war, Bletchley Park was a fashionable location for intellectuals, engineers, and the noblest of aristocratic traditions, as the holding of Liberal MP Sir Herbert Leon. After the war, Bletchley Park was first abandoned, then eventually transformed into a thriving museum and testament to British ingenuity and resilience. The Lost World of Bletchley Park not only covers the famous personages and codebreakers of the park, but also day-to-day life in Bletchley as a wartime town. An extensively researched visual as well as informational treasury, The Lost World of Bletchley Park is highly recommended, particularly for public and college library world history collections." - Midwest Book Review
"...absolutely riveting... I found myself reading late into the night, unable to put it down." - 
Lost Past Remembered