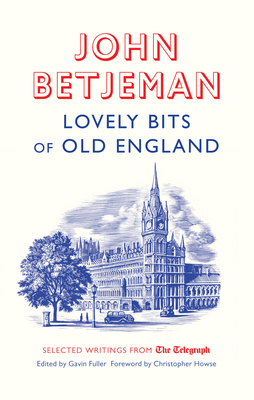 Lovely Bits of Old England (Paperback)
John Betjeman at The Telegraph (Telegraph Books)
Aurum Press, 9781781313633, 240pp.
Publication Date: January 1, 2015
* Individual store prices may vary.
Description
John Betjeman began writing for the Telegraph in 1951 and continued to do so for a quarter of a century. During that time Britain underwent profound social and cultural changes. In architecture, grand Victorian edifices were pulled down to make way for gleaming brutalist monuments to the Future. In literature, a new generation of angry young men (and women) challenged convention head on. In music, pomp and circumstance gave way to the electric guitar. And in fashion, hemlines crept up. Amongst much of the population, however, such rapid change met with disquiet: a nagging sense that the New had displaced much that was wonderful in the Old. By turns eccentric, wistful and polemical, Betjeman's writing for the Telegraph gave voice to this unease. From contemporary reviews - often refreshingly caustic - of novelists such as Ian Fleming, Nancy Mitford and J.D. Salinger, through prescient warnings about the threat posed to the English skyline by office blocks, motorways and concrete lamp-standards, to elegiac paeans to Norman churches and, of course, the gothic majesty of St Pancras station, Lovely Bits of Old England collects the very best of Betjeman's contributions to the Telegraph for the first time. Taken together they offer a eulogy for what was lost and an impassioned defence of the past in the face of progress's relentless onward march.
About the Author
Christopher Howse writes for the Telegraph, with a weekly column on the human face of religion. He is also a regular contributor to the Spectator and his latest book is A Pilgrim in Spain (2011).
Gavin Fuller is head of the Telegraph library, responsible for maintaining that newspaper's archive. He is also a former Mastermind champion and the editor of Leaves on the Line, a collection of readers' letters to the Telegraph on trains and train journeys.
John Betjeman was born in 1906 and educated at Magdalen College, Oxford. A prolific journalist, poet and broadcaster, he became a national celebrity, famous for his passionate defence of Britain's Victorian heritage. He was knighted in 1969 and became Poet Laureate in 1972. He died in 1984.
Praise For Lovely Bits of Old England: John Betjeman at The Telegraph (Telegraph Books)…
The nation could now, more than ever, do with the acute observation sof this engaging, vastly knowledgeable, self-deprecating, untidy, poetic, slightly boozy figure, full of laughter and melancholy
â??[recalls] a vanished age of prose civility.â??
The nation could now, more than ever, do with the acute observation sof this engaging, vastly knowledgeable, self-deprecating, untidy, poetic, slightly boozy figure, full of laughter and melancholy
'[recalls] a vanished age of prose civility.'
or
Not Currently Available for Direct Purchase