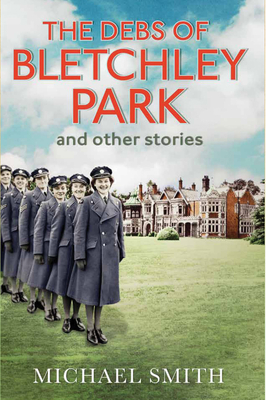 The Debs of Bletchley Park and Other Stories (Hardcover)
Aurum Press, 9781781313879, 304pp.
Publication Date: March 1, 2015
* Individual store prices may vary.
Description
For Winston Churchill the men and women at Bletchley Park were 'the geese the laid the golden eggs', providing important intelligence that led to the Allied victory in the Second World War.
At the peak of Bletchley's success, a total of twelve thousand people worked there of whom more than eight thousand were women. These included a former ballerina who helped to crack the Enigma Code; a debutante working for the Admiralty with a direct line to Churchill; the convent girl who operated the Bombes, the top secret machines that tested Enigma settings; and the German literature student whose codebreaking saved countless lives at D-Day.
All these women were essential cogs in a very large machine, yet their stories have been kept secret.
In The Debs of Bletchley Park and Other Stories author Michael Smith, trustee of Bletchley Park and chair of the Trust's Historical Advisory Committee, tells their tale. Through interviews with the women themselves and unique access to the Bletchley Park archives, Smith reveals how they came to be there, the lives they gave up to do 'their bit' for the war effort, and the part they played in the vital work of 'Station X'.
They are an incredible set of women, and this is their story.
About the Author
MICHAEL SMITH is the author of a number of bestselling books on spies, special forces and codebreaking including the Sunday Times number one bestseller Station X: The Codebreakers of Bletchley Park; Foley: The Spy Who Saved 10,000 Jews; The Spying Game and Killer Elite: The Inside Story of America's Most Secret Special Operations Team. Smith worked for the BBC, the Daily Telegraph and the Sunday Times before becoming a full-time author. He studied creative writing at Oxford University and has an MA with Distinction in Creative Writing (The Novel) from Brunel University.
Praise For The Debs of Bletchley Park and Other Stories…
'Comprehensive...movingly portrayed ... Smith provides a useful corrective to the many accounts that see Turing as the lone central figure at Bletchley.â??
â??If you are looking for a riveting, un-put-downable read to curl up with on a Siberian January  night â?? look no further than Michael Smithâ??s marvellous book â??  The Debs of Bletchley Parkâ??
'colourful and engaging social history'
â??Brisk and readable story of the women of Bletchley ... Smith is good on what the women actually didâ??
'Pacey and easy to read ... a fascinating account of how the war changed life for women in all strata of societyâ??
'If you are looking for a riveting, un-put-downable read to curl up with on a Siberian January  night – look no further than Michael Smith's marvellous book –  The Debs of Bletchley Park'
'Brisk and readable story of the women of Bletchley ... Smith is good on what the women actually did'
'Pacey and easy to read ... a fascinating account of how the war changed life for women in all strata of society'
or
Not Currently Available for Direct Purchase