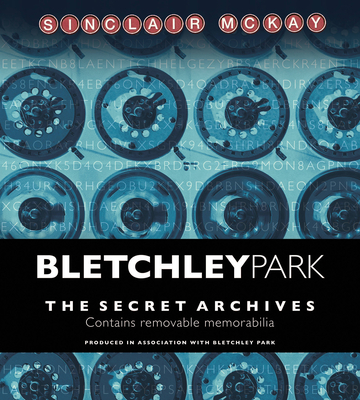 Bletchley Park (Hardcover)
The Secret Archives
Aurum Press, 9781781315347, 176pp.
Publication Date: March 15, 2016
* Individual store prices may vary.
Description
This beautifully presented slipcased collector's edition of the best selling title, The Lost World of Bletchley Park is a comprehensive illustrated history of this remarkable place, from its prewar heyday as a country estate, its wartime requisition and how it became the place where modern computing was invented and the German Enigma code was cracked, to its post-war dereliction and then rescue towards the end of the twentieth century as a museum.
Removable memorabilia includes:
1938 recruiting memo with a big tick against Turing's name
Churchill's 'Action this day' letter giving code breakers extra resources
Handwritten Turing memos
Top Secret Engima decryptions, about the sinking of the Bismark, German High Command's assessment of D-Day threat and the message announcing Hitler's suicide
A wealth of everyday items such as authentic theatre posters, a map of Bletchley Park, canteen menus, teleprinter print-outs of codes, the Colossus paper tape spooled through machines
Newly redesigned interiors with 25% new content, high end slipcase package featuring removable facsimile documents, this is an essential purchase for everyone interested and wanting to experience the place where code-breaking helped to win the war.
About the Author
SINCLAIR MCKAY is the bestselling author of The Secret Life of Bletchley Park, The Lost World of Bletchley Park, The Secret Life of Fighter Command and The Secret Listeners for Aurum, as well as histories of Hammer films, the James Bond films and the pastime of rambling. He lives in London. 
Praise For Bletchley Park: The Secret Archives…
'This fascinating book brings to life the invaluable work done...But there is also an insight into the origins of Bletchley Park itself'
 
- Who do you think you are magazine
Illustrated Book of the Month â??Less a book than an adventureâ?¿ Even better, the book covers not only the wartime life of Bletchley Park, but also brings the story right up to date with material on the renovation of the buildings and on famous visitors to the site.â?? 
5*
'This collection provides a fascinating insight into [the Bletchley charactersâ??] workâ?¿ Thumbing through this slipcased collectorâ??s edition will make you feel as if you are holding history in your hands.â??
â??this fascinating book brings to life the invaluable work done...But there is also an insight into the origins of Bletchley Park itselfâ??
â??Unforlding the maps, memos and Enigma decryptions adds a powerful and evocative dimension to this impressive chronicleâ?¿ This marvelous account makes compelling reading.â??
â??an introduction to the place and the people who made the magic happen, and how they lived their covert lives.â??
Illustrated Book of the Month 'Less a book than an adventureâ?¬Â¿ Even better, the book covers not only the wartime life of Bletchley Park, but also brings the story right up to date with material on the renovation of the buildings and on famous visitors to the site.' 
'5*. This collection provides a fascinating insight into [the Bletchley characters'] work… Thumbing through this slipcased collector's edition will make you feel as if you are holding history in your hands.'
 
- How it Works magazine
or
Not Currently Available for Direct Purchase