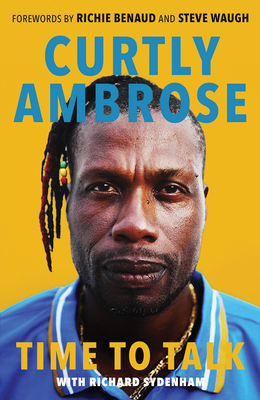 Sir Curtly Ambrose (Paperback)
Time to Talk
Aurum Press, 9781781315439, 288pp.
Publication Date: August 2, 2016
Other Editions of This Title:
Hardcover (6/15/2015)
* Individual store prices may vary.
Description
Sir Curtly Ambrose is one of the most famous cricket players of all time.
He is also notorious for his silence.
Now, for the first time, Curtly will tell his story.
One of the leading - and most lethal - fast bowlers of all time, Curtly Ambrose played 98 Tests and 176 One Day Internationals for the West Indies, and for much of his career topped the ICC player rankings. He was an integral part of the iconic West Indies teams of the late 1980s and early 1990s whilst also bearing witness to their decline throughout the 1990s and beyond. A formidable sportsman, Curtly has unique insight into the extreme highs and debilitating lows of international cricket.
But during his career Curtly Ambrose was notorious for his silence. He rarely spoke to the media and, if he did, it was usually to rebuff an interview, which earned him the infamous reputation of 'Curtly talks to no one!'.
In this, his autobiography, Curtly will tell the story of his life with the West Indies team for the very first time. From his colourful upbringing in Antigua, through to the turbulent politics of both nation and dressing room, the book takes you behind the scenes to give a fascinating insight into the career of an iconic sportsman.
With his customary honesty, Curtly will discuss his relationship with both the game and his teammates and competitors, and will talk in depth about key moments in his career, including his extraordinary spell against Australia in 1992, taking 7-1. From the culture of West Indian cricket to experiencing post-Apartheid cricket in South Africa, as well as touching on his relationship with cricket mogul and notorious financier Allen Stanford, the book will speak to fans of works such as C.L.R. James' Beyond a Boundary, as well as fans of cricket and sports biography.
It also includes forewords from legendary cricket commentatory Richie Benaud and Steve Waugh.
About the Author
SIR CURTLY AMBROSEÂ is one of the most impressive cricket players in history. During his career he played 98 Tests and 176 One Day Internationals for the West Indies and for much of that time he topped the ICC player rankings. Since his retirement he has turned to coaching and playing bass guitar in a reggae band.
RICHARD SYDENHAM is a journalist, author and sports agent. He has written for Reuters, Bloomberg, Sunday Telegraph and Sunday Express, and his writing has also appeared in the Sydney Morning Herald, the Guardian, the New York Times and the International Herald Tribune.
Praise For Sir Curtly Ambrose: Time to Talk…
â??Curtly Ambrose's autobiography has just the right mix of reflection, forthrightness and lists. Pride, professionalism, privacy and justice are common themes throughout the tome, which discloses enough about Ambrose to dispel the urban legend that alleged "Curtly talks to no man".â??
â??AÂ very readable account of a career which has been kept somewhat under wraps over the years. Â A hole has definitely been filled in recent West Indian cricket history with Sir Curtlyâ??s honest thoughts, actions and revelations.â??
'There is plenty to read here, from details of his early life in Swetes, as the fourth child of seven whose father disappeared to the Virgin Islands to earn money for the family but never came back, to his time as a supreme bowler in the West Indies side.'
'There is plenty to read here, from details of his early life in Swetes, as the fourth child of seven whose father disappeared to the Virgin Islands to earn money for the family but never came back, to his time as a supreme bowler in the West Indies side.'
'Curtly Ambrose's autobiography has just the right mix of reflection, forthrightness and lists. Pride, professionalism, privacy and justice are common themes throughout the tome, which discloses enough about Ambrose to dispel the urban legend that alleged "Curtly talks to no man".'
'AÂ very readable account of a career which has been kept somewhat under wraps over the years. Â A hole has definitely been filled in recent West Indian cricket history with Sir Curtly's honest thoughts, actions and revelations.'