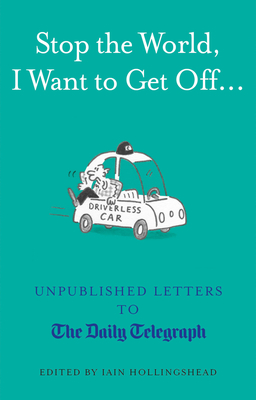 Stop the World, I Want to Get Off... (Hardcover)
Unpublished Letters to the Telegraph (Unpublished Letters to The Daily Telegra)
Aurum Press, 9781781315453, 192pp.
Publication Date: December 1, 2016
* Individual store prices may vary.
Description
Readers of the Daily Telegraph will be fondly aware of the combination of wistful nostalgia, robust no-nonsense good sense and appalled outrage that characterises its "brilliant" (Ian Hislop) Letters page, which if it did not exist would have to be invented.
But what of all the letters that were just slightly too wacky, too off the wall, too politically incorrect, to make it for publication? Now the Telegraph gives their authors the stage at last: baffled, furious, occasionally paranoid, and from this hilarious selection of the best we can see that no, none them is alone...
About the Author
Iain Hollingshead spent two years on the Letters to the Editor desk before becoming a full-time feature writer for The Daily Telegraph. His more serious assignments have included reporting on the student riots in London and interviewing everyone from Michael Atherton to Gurkha veterans to a member of Seal Team Six, the elite unit which killed Osama bin Laden. His less serious assignments have included taking a bath in Las Vegas with six albino rabbits, spending three days behind the scenes at the Miss England competition, camping outside Westminster Abbey for the Royal Wedding, eating in five Michelin starred restaurants in one day, learning to flirt in Pizza Express, learning to Dance in Mamma Mia!, performing stand-up comedy to 300 eight-year-olds, training with the Royal Marines, climbing into a Spitfire and experiencing a Brighton nudist beach first hand. He now writes freelance for the paper. He has edited four bestselling collections of unpublished letters from the Daily Telegraph for Aurum.
Praise For Stop the World, I Want to Get Off...: Unpublished Letters to the Telegraph (Unpublished Letters to The Daily Telegra)…
'reliably curmudgeonly'
- Simon Evans, Choice
or
Not Currently Available for Direct Purchase