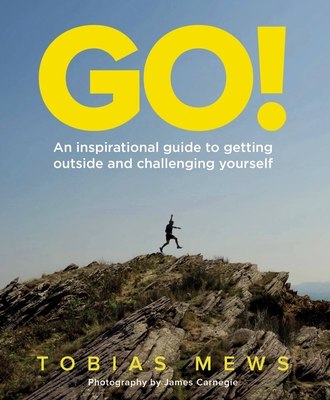 Go!: An Inspirational Guide to Getting Outside and Challenging Yourself: Create Your Own Amazing Race Challenges (Paperback)
An Inspirational Guide to Getting Outside and Challenging Yourself: Create Your Own Amazing Race Challenges
Aurum Press, 9781781316405, 224pp.
Publication Date: April 4, 2017
Description
Whether you are looking to find a new challenge on your doorstep, tempt friends to race one another at the weekend or create an epic seven-day challenge, GO is the ultimate inspirational guide to getting outside and challenging yourself.
Tobias Mews, adventure athlete, gives fantastic insight, practical guidance and expert tips on how to make and complete the perfect 'Race-It- Yourself' adventure.
Whether it's discovering a new place and a new way to get there, or reaching your nearest summit whilst racing your friend, Mews brings together all the kit, method and ingredients you need to get you out of your comfort zone and into an exhilarating adventure, big or small.
Each entry is brought to life by Tobias' personal experience of creating and enjoying these escapes and is packed full of top tips, route points and even advice for those who want to push themselves further.
Discover the thrill of a new escape, enjoy the pain and gain of completing a challenge and the fun and curiosity of trying something new. GO is the perfect book for anyone wishing to add a spice of adventure to their week, month, year and life.
About the Author
Tobias Mews lives a rather symbiotic lifestyle, where his passion for adventure merges with his career as a journalist. Formerly a Captain in the British Army, Tobias retired his commission in order to peruse a career in journalism. His work has been published in the Telegraph, Runner's World, Men's Health, Triathlete's World, Men's Fitness. Tobias has tackled many of what are regarded as the toughest races in the world, from mountain bike stage races across South Africa to iron man distance triathlons in Norway.
Advertisement